Kirsten Powers Frustrated With Conservative Columnist, Fox Anchor For Defending GOP In Fiscal Cliff Talks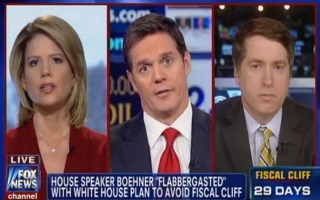 The Daily Beast columnist Kirsten Powers took a jab at Congressional Republicans on Monday when she told Fox News Channel's Bill Hemmer that she thought the GOP was negotiating with President Barack Obama like children.

RELATED: John Boehner Claims He Was 'Flabbergasted' By Obama's Fiscal Cliff Proposal: 'We're Nowhere'
National Review editor Rich Lowry called the White House's initial offer to resolve the fiscal cliff was more of an effort by the president to "break and humiliate Republicans."
Powers, meanwhile, thought that the president did not have a partner negotiating in good faith in Congress because Republicans have refused to make a counteroffer.
"I find the stuff that the Republicans are saying is really being counterproductive," Powers said.
Hemmer said that the GOP's counteroffer was their willingness to put added tax revenues on the table. "I'm talking cuts," Powers said. Hemmer reiterated the Republican party's position which Powers found incredulous.
"Where is their offer," Powers asked. "If they're the party of cutting spending, stop talking about some Democrats. Make an offer."
Lowry insisted that Senate Minority Leader Sen. Mitch McConnell (R-KY) has been publically expressing his willingness to deal with the White House on a variety of news programs.
"That's really how you think Republicans should lead is just sit and wait for a call from the president," Powers asked Lowry. "You don't think that they should make an actual offer?"
"I feel like we're dealing with a bunch of three-year-olds," Powers said with frustration. "We're not going to actually just tell the White House what we want; we're just going to talk about it publically."
Watch the clip below via Fox News Channel:
> >Follow Noah Rothman (@Noah_C_Rothman) on Twitter
Have a tip we should know? [email protected]