Kirsten Powers 'Hijacks' Hannity Panel To Confront Rev. Jesse Lee Peterson About His 'Misogynist' Sermons
Kirsten Powers 'Hijacks' Hannity Panel, Confronts Rev. Peterson About His Sermons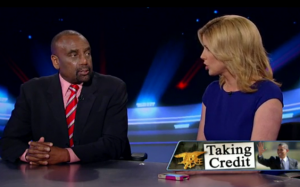 On Tuesday night, Kirsten Powers joined Rev. Jesse Lee Peterson on Sean Hannity's Great American Panel. Veering from scheduled discussion topics, Powers directly addressed Peterson about his sermons, citing what she called "misogynist" statements.
"I didn't know I was going to be sitting here" with Peterson, Powers said. She then confronted him, saying, "You said women are creating a shameless society, and that they are destroying the family, and they shouldn't be put in powerful businesses. Address that."
"Most Americans know that liberal women are destroying the family, they hate men, they hate society," Peterson responded. Powers replied, "That is absolutely false," turning to Hannity, asking, "Sean, do I hate men, do I hate you?"
"I hope not," he answered.
Powers went on: "You are a pastor distorting God's word for misogyny. What do you mean — when you say women —when you say you leave a woman alone in charge a family and she destroys the family?"
"We allowed the national organization of women who hate men to come in years ago," Peterson said, to which Powers protested. Peterson continued, "We left them alone, look what condition we are in today; out of wedlock birth, abortion."
"I have to step in," Hannity interjected, noting this was not a topic he was anticipating on the show. "You are hijacking the show." Powers said, "I didn't know I was going to be on with him."
Questioning Powers' outrage, Peterson said, "If you believe what you believe, why are you upset at me? I'm not upset at you."
"Because you're a pastor using God's word to teach misogyny to people," Powers replied.
Peterson disagreed. "No, I have a responsibility to tell the truth," he said. "You are on the side of lies, why shouldn't I be on the side of truth? The truth is going to make us free. […] I tell the truth."
Watch the heated segment, via Fox News:

Have a tip we should know? tips@mediaite.com