Kirsten Powers On Priorities USA Ad Fallout: 'Ludicrous' To Pretend Only Democrats Are 'Slinging Mud'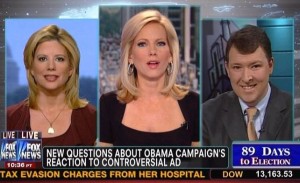 On Thursday, Daily Beast columnist Kirsten Powers debated American Enterprise Institute fellow Marc Theissen about a recent ad put out by the pro-Barack Obama Super PAC Priorities USA which implicates Mitt Romney in the cancer-related death of a former steelworker's wife. Powers became frustrated when it seemed apparent that the Obama campaign and its supporters were being blamed for running a negative campaign when Republicans, in her estimation, have been just as negative.

RELATED: Mediaite's Tommy Christopher Defends Priorities USA Anti-Romney Ad On The Young Turks
Fill-in host Shannon Bream asked Powers if she felt it was appropriate for the White House to address the ad. Powers doubted that, due to the laws that distinguish PACs from the campaigns they support, it would be necessary for the President to address the ad even though she thinks it is misleading.
"I think that if this had been factual, then that's a different story," said Powers. "I don't know that it would be crossing any boundaries of inappropriateness."
Powers said that subsequent fact-checking reports that have called into question many of the claims made in the ad. However, like Romney who dismissed complaints made by former House Speaker Newt Gingrich during the GOP presidential primaries, Obama is not likely to address the ad.
Theissen countered that the lines of attack in the ad come directly from members of the Obama campaign, specifically Deputy Campaign Manager Stephanie Cutter and the links between this PAC ad and the Obama campaign are clear.
"It's part of a larger pattern of mud-slinging by the Democrats," said Theissen citing both Cutter accusing Romney of a felony and Sen. Harry Reid saying Romney paid no taxes for ten year without revealing his source.
Powers said that it was likely that the Obama campaign thought the denunciations of this ad amounted to an "inside the Beltway conversation," and that they would like to have the benefits of the ad without taking responsibility for it – all of which suggests the President will ignore calls to address the ad.
However, Powers objected to Theissen making no equivalency between the Obama campaign and its loyal PACs and those of Republicans and Mitt Romney.
"To pretend that this is just the Obama campaign is doing this is ludicrous," said Powers. "Why don't you have Newt Gingrich talk about the Super PAC ads that were run against him by a former Romney staffer? It's a little bit much to have to sit and listen to about how it's just the Democrats who are slinging mud."
Watch the segment below via Fox News Channel:
> >Follow Noah Rothman (@Noah_C_Rothman) on Twitter
Have a tip we should know? [email protected]