Kirsten Powers: Only Question Is If Gingrich Implodes Before Or After Getting GOP Nomination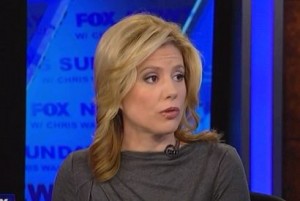 Herman Cain's departure from the presidential race may turn out to be good news for Newt Gingrich, as the current GOP frontrunner is starting to gain the support of some former Cain backers. Byron York pointed out on Fox News Sunday today that Gingrich is polling well in both Iowa and South Carolina, and has a real chance of winning the nomination because of conservative antipathy towards Mitt Romney.
Chris Wallace played clips of Gingrich and Romney to highlight their cemented, respective statuses as frontrunner and underdog. The first, of course, was Gingrich's proclamation that he will be the nominee for the Republican party. The clip of Romney showed the former Massachusetts governor seemingly responding to Gingrich's words by reminding him the election has not even happened yet and anything could still happen in a race that's seen the rise and fall of many candidates.
RELATED: George Will: 'Wisdom Is One Thing Newt Gingrich Doesn't Have'
Mara Liasson suggested Gingrich's "penchant for grandiosity," coupled with a tendency for personal implosions when he hits a political peak, may prove to damage his candidacy in the long run and he will have to fight for the nomination unlike any of the frontrunners before him. Kirsten Powers tacked on to Liasson's point about implosions, and even if Gingrich does happen to win the nomination, there are negative scenarios to be considered.
"The question is, does he implode before he gets the nomination or after he gets the nomination? I'm not saying he's going to get the nomination, but he's in a position to get it. And what you see is, take Florida for example, he's up 25 points in Florida, right? But if you look at the matchup ahead with Obama, Romney does quite a bit better… So what you have is maybe someone who can consolidate these conservatives and bring them around him, but in a general election, I think, it's gonna scare off moderates, it's gonna scare off independents."
Watch the video below, courtesy of Fox News:
Have a tip we should know? tips@mediaite.com
Josh Feldman - Senior Editor