Kirsten Powers Shreds Rolling Stone's Tsarnaev Cover: 'Sick,' 'Twisted' They Would Glorify A Terrorist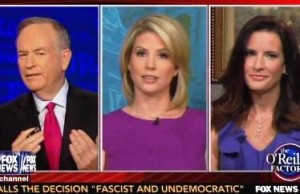 Kirsten Powers doesn't often agree with Bill O'Reilly, but occasionally it's fun to see them harping on something condemnable in harmony. Thus was the case tonight, when Powers agreed with O'Reilly that Rolling Stone's decision to put accused Boston Marathon bomber Dzhokhar Tsarnaev on the cover was beyond despicable. She found it "terrible" and "kind of sick" that they would try to feed into the coolness of a suspected terrorist.
RELATED: Touré Defends 'Journalistic' Concept Behind Rolling Stone's Boston Bomber Cover: 'Exploring Roots Of Evil'
O'Reilly surmised that Rolling Stone only did this to get a bit of much-needed publicity, but gave them credit for an article that did not necessarily glorify Tsarnaev, only make him a slightly sympathetic character. Kate Obenshain brought up Rolling Stone's defense of the piece, and found it striking they would focus on this "heartbreaking and riveting" story as opposed to those of the Boston victims. She argued this is systematic of a media that has "sympathy with terrorists who blame America for our ills."
Powers added it's one thing to have a simple picture of Tsarnaev on the cover, but they went with a picture that appeared to be "glamorizing him." She said it feels like they're "rewarding a murderer," while Obenshain noted the overwhelming backlash on social media over the case.
O'Reilly tied this to the crazy fans Tsarnaev somehow has, and said the cover may only feed into the "nonsense." Powers agreed, concluding that it's nothing short of "twisted" that anyone would want to glorify this guy.
Watch the video below, via Fox News:
—–
Follow Josh Feldman on Twitter: @feldmaniac
Have a tip we should know? tips@mediaite.com
Josh Feldman - Senior Editor