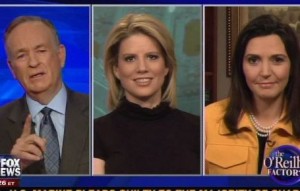 Bill O'Reilly continued the gun conversation on his show tonight with Fox News contributor Kirsten Powers and Democratic pollster Margie Omero. O'Reilly was surprised to find the two of them agreeing with him on some of his points on gun control. He mockingly referred to himself as "fascist O'Reilly" and remarked that agreeing with him may get them disinvited from future liberal dinner parties (assuming such things exist).
RELATED: Bill O'Reilly: Gun Control Will Not Stop Dangerous Criminals
Powers first reacted to an earlier interview O'Reilly had with Senator Marco Rubio, saying that Rubio was "demagoguing" the gun issue. O'Reilly asked Powers what in particular Rubio said that she objects to. She allowed that Rubio's position on immigration is a good "starting point," but because of her pro-amnesty stance she differed with a lot of what Rubio had to say.
Margie Omero told O'Reilly she agreed with much of his commentary on guns, especially on background checks. However, she differed with O'Reilly's view that states should pass their own gun control laws, arguing it should be a federal issue. She said that doing so would allow states to share data on gun owners, but O'Reilly pointed out that one of Obama's executive orders is going to let states do that anyway.
By and large, O'Reilly found it striking that both guests were actually agreeing with "fascist O'Reilly" on gun control. He told his guests they might not be so well-received by their liberal dinner friends. Powers interjected to tell O'Reilly that she also agrees that the issue should be federal. Omero added that the government should be trying to "keep dangerous guns out of dangerous hands," while O'Reilly said that it's going to be hard to accomplish that, and so prison sentences for people caught committing a gun crime should be severe.
Watch the video below, courtesy of Fox News:
—–
Follow Josh Feldman on Twitter: @feldmaniac
Have a tip we should know? tips@mediaite.com
Josh Feldman - Senior Editor