Kirsten Powers Takes On Hannity's Obama Criticism On Libya With Bush Diplomacy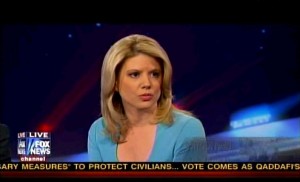 While many who were hoping to see international action taken to stop Muammar Gaddafi's attempt to retake the rebel stronghold of Benghazi in Libya were satisfied today by the UN's no-fly zone resolution, Sean Hannity called too little, too late on President Obama, arguing that Republicans would have acted much faster to stop the attack. But he hit a dead end on his argument when panelist Kirsten Powers noted that it was Republicans, namely George Bush, that normalized relations with Gaddafi to begin with.
"As he's about to wipe out the rebels, oh, now the UN comes through with a resolution," Hannity quipped at his Great American Panel, two of which– commentator Jedediah Bila and radio host Anthony Cumia— agreed. Powers, however, was unconvinced. "[Gaddafi] was the guy who did that with the Lockerbie bombing– it was the same guy George Bush established a relationship with." To this, Hannity quickly countered that Ronald Reagan had bombed Gaddafi– a bombing which, Powers notes, "we paid reparations for."
Still, Hannity argued that waiting for international law caused the deaths of many. "People got slaughtered while [President Obama] dithered with his brackets," Hannity argued, a point Powers refused to accept as fair. "He is late to the party," Cumia added about the President, noting that the revolts began 31 days ago and the President had yet, in his eyes, shown "that his is in charge and a leader." Bila agreed, arguing that when the President makes statements, "it's mixed," leaving people to guess what his real position is.
The discussion via Fox News below:

Have a tip we should know? tips@mediaite.com