Kirsten Powers Takes Twitter Battle With Touré To Fox: Racism Charge Against Susan Rice Critics Is 'Toxic'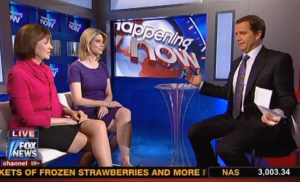 On Friday afternoon, Kirsten Powers and Judith Miller discussed the recent assertion that those criticizing UN Ambassador Susan Rice are doing so based on race and/or gender. Powers particularly took note of MSNBC host Touré's recent remarks — which she argued with him about on Twitter — and questioned the "angry white man" storyline.
RELATED: Kirsten Powers And Touré In Twitter Battle Over Supposed Racism Of Susan Rice's Republican Opponents
Touré's comment in question was from Monday's The Cycle — when he said McCain was "bitter" about his 2008 loss and using the Rice issue to "remain relevant":
[McCain] also gave us the horrible optics of he and Lindsey Graham as old, white, establishment folks wrongly and repeatedly attacking a much younger black woman moments after an election in which blacks and women went strongly blue. Looks like the GOP is already laying the foundation for losing in 2016.
"I think this is a very toxic, very dangerous thing that's happening," Powers said, noting that it started with Congressional Black Caucus members who made the charge of racism and/or sexism. Rice is a "very accomplished person," Powers said, "and she shouldn't be talked about as if she's this child. She's up for Secretary of State. She was out on five talk shows talking about Benghazi. She should be asked questions about that."
Miller, in "total agreement," deemed it "reprehensible" that Democrats are trying to change the subject "by casting aspersions on the motivation who dare, dare criticize the administration's explanation of what happened, or didn't happen, in Benghazi."
It's "outrageous" to call someone an "old, white guy" and then accuse the same person of racism, Miller added, asking: Isn't that bigoted? Imagine the outrage, she said, had the phrase been "old, black guy."
Furthermore, the idea that McCain is using the issue as a "life raft" is "an insult that is completely unworthy of informed criticism." Powers added that Sens. Kelly Ayotte and Susan Collins also have been critical of Rice, but they don't make it into the discussion because they don't fit the narrative of the "so-called angry white man."
You can't say that everyone should have equal opportunity in these positions, Powers said, "and then when they're held accountable say, 'You're racist,' or, 'You're sexist.'"
Watch below, via Fox News:

Have a tip we should know? tips@mediaite.com