Kirsten Powers to Eric Bolling: You're 'Offended' That Holder Remembers Racism?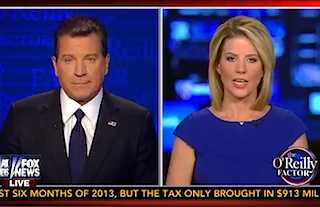 Fox News' Eric Bolling sat in for Bill O'Reilly once again Tuesday night and during the 8 p.m. broadcast he got into a testy exchange with contributor Kirsten Powers over the role of Attorney General Eric Holder in Ferguson, Missouri.
"Eric Holder has become the most visible civil rights activist in the country," Bolling said. "Can he be fair and balanced and administer justice on a race case like this?"
"Yeah, absolutely. I don't know why you think he wouldn't, Eric," Powers responded. When Bolling said it was comments like those Holder made following the Trayvon Martin shooting, in which he said he recalled being followed around in the supermarket as a child, that made him question the attorney general's objectivity, Powers asked, "So your beef with him is that he recalls something that happened to him as a black man?"
Bolling also questioned whether President Barack Obama or Holder would feel the need to weigh in if a black police officer killed an unarmed white teenager. "I think that would obviously be terrible if it was an unarmed person," Powers said. "But I also think that there is a history of racial discrimination in this country and you seem offended when Eric Holder acknowledges that. And I don't quite understand that."
The host insisted that he is not "offended," but is rather just pointing out what he sees. Later, he asked Powers why Obama himself isn't visiting Ferguson this week.
"So you don't want Eric Holder to go, but now you are mad that Barack Obama isn't going?" she asked.
Watch video below, via Fox News:
[Photo via screengrab]
— —
>> Follow Matt Wilstein (@TheMattWilstein) on Twitter
Have a tip we should know? tips@mediaite.com