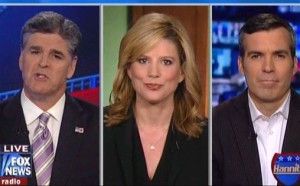 In case you've been living under a rock or willfully avoiding the news like a virus, you know that Donald Trump is going to host a Republican presidential debate on December 27th between Rick Santorum and Newt Gingrich. The head of the Republican party publicly expressed concerns about the debate, especially given the possibility Trump will decide to run as an independent.
Realistically speaking, some candidates would naturally make the decision to avoid the Trump debate for that very reason, but Trump seems to think the other candidates are afraid of him, and this was the topic of discussion on tonight's Hannity. Sean Hannity discussed the Donald's influence in the Republican party with Democratic strategist Kirsten Powers and Republican strategist Kevin Madden.
RELATED: Andrew Breitbart: Why Would GOP Candidates Go On MSNBC, But Turn Down Trump?
Hannity wondered why any candidate polling poorly would avoid an invitation to such a high-profile event, given that any airtime is good exposure for these candidates. (Long-shot candidate Buddy Roemer has, in fact, publicly asked Trump to participate in the debate.) Powers found it hard to just accept that Trump suddenly became the Jeff Probst of the Republican party.
"I don't understand how Donald Trump suddenly became this kingmaker in the Republican party. I'm a little puzzled by it, and I… 'cause it makes total sense to me that Republicans are saying no to him. And even this idea that people now go up to see Donald Trump to kiss his ring, I just… I don't know, it's just puzzling."
Hannity countered that when Trump briefly "entered" the race, he was polling well. Yes, and Breaking Dawn: Part One broke box office records, it's still a crappy Twilight movie. What other strong metric does Trump have going for him, according to Hannity? He's a harsh Obama critic. Powers didn't buy this explanation, pointing out the Obama administration has plenty of critics who aren't wealthy megalomaniacs.
RELATED: Rosie O'Donnell On Donald Trump: He's The 'Perfect Choice' To Moderate A GOP Debate
Madden, meanwhile, argued that one of the problems with having Trump host a debate would be that the Donald would gravitate towards the center of attention, as is his modus operandi. He expressed concerns that such a distraction would take away from the candidates' efforts in early primary states. Madden also made the obvious observation that Trump is most likely not going to run for president as an independent, but says it as often as possible in order to garner the media's attention.
Watch the video below, courtesy of Fox News:
Have a tip we should know? tips@mediaite.com
Josh Feldman - Senior Editor