Kirsten Powers To Hannity: White House 'Completely Despicable' In Going After Fox News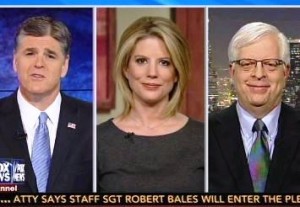 Sean Hannity tonight declared that the Department of Justice targeting Fox News' James Rosen is the latest example of the White House's open hatred and disdain of Fox News. Kirsten Powers and conservative radio host Dennis Prager joined Hannity for the pile-on, and Powers in particular called the White House "despicable" for the actions it's taken against Fox, and called out President Obama for trying to single out Fox News as a thorn in his side.


RELATED: Kirsten Powers To O'Reilly: Obama Is Lying, 'Playing Word Games' In Trying To Rewrite What He Said On Benghazi
Powers called the White House's actions "completely despicable" and said the administration was swift in launching a cable news war with Fox News. Powers also found odd that Obama would be so openly critical of Fox News, saying that "out of all the media, there is one place that allows people to say things about him that he doesn't like," and somehow just that is enough to bother the President of the United States.
Hannity accused Obama of being "thin-skinned" and overly indulgent in the "worship" he's given in most of the media. Prager said that "the left needs a bubble to succeed," and so liberals can't stand any voices of dissent, be it a more conservative news organization or a Republican college professor. He said that in the list of the 200 most prestigious U.S. colleges, not a single commencement speaker at a single one was conservative.
After a brief discussion of whether Eric Holder lied under oath or not, Hannity showed an RNC video attacking Obama and members of his administration for denying prior knowledge of the big scandals dominating the conversation in Washington. Prager lamented how the mainstream media is almost guaranteed not to show the video to its viewers. Powers added that the only real political fallout will be solidification of the conservative base over their outrage.
Watch the video below, courtesy of Fox News:
—–
Follow Josh Feldman on Twitter: @feldmaniac
Have a tip we should know? tips@mediaite.com
Josh Feldman - Senior Editor