Kirsten Powers To O'Reilly: Dems Less Tolerant Of Dissent Because They're Used To Controlling The Media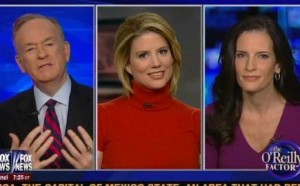 Bill O'Reilly tonight highlighted findings that liberals on the internet tend to be less tolerant of opposing views than conservatives. Democrat Kirsten Powers agreed with this sentiment, relaying from her own personal experiences engaging with liberals and conservatives, surmising that the former tend to be less tolerant because they are used to controlling the media.
RELATED: Survey: Liberals More Likely To Block You Online For Posting Differing Opinions
O'Reilly said the study finds liberals are far more sensitive about criticism, and a significant percentage of them have ended online relationships due to political differences. Powers explained that after getting out of her own "Democratic bubble," she noticed that conservatives tend to be more open to hearing opposing viewpoints than liberals.
"Liberals, because they are used to controlling all the media, pretty much, academia, that for them, when they hear things that don't jibe with what they want to hear, it's very disconcerting and unsettling to them."
Powers added that most of these liberals are generally shocked about dissenting views because they just assume everyone believes their beliefs are just common sense. Kate Obenshain agreed with Powers, saying that when conservatives on college campuses openly disagree with liberal orthodoxy, they are charged with "violating the campus speech codes."
O'Reilly weighed in, saying that while he has no "internet friends" (sidenote: can you imagine being internet friends with Bill O'Reilly?), he has observed liberals being stubbornly unwilling to listen to the other side of the debate. He said they generally "take things more personally," to which Powers disagreed and told O'Reilly not many people are generally as "combative" as he is.
The segment ended with O'Reilly and Powers riffing on the conservative South and "liberal ghettos" in Texas.
Watch the video below, courtesy of Fox News:
—–
Follow Josh Feldman on Twitter: @feldmaniac
Have a tip we should know? tips@mediaite.com
Josh Feldman - Senior Editor