Kirsten Powers To O'Reilly: Jesus Stomp Controversy Was 'Intolerant,' 'Bad Advertisement… For Liberalism'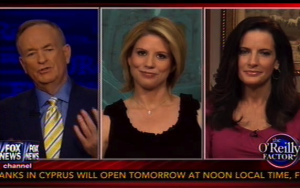 Bill O'Reilly tonight continued to talk about the case of a Florida university being investigated for a class exercise in which students were ordered to stomp on the word "Jesus" and one student was disciplined for refusing to engage in the activity. Kirsten Powers agreed with O'Reilly on the offensiveness of the class exercise, calling it "insensitive," "intolerant," and a "bad advertisement, unfortunately for liberalism" at universities.


RELATED: O'Reilly And Beck Take On 'Jesus' Stomp Controversy: University Only Sorry Because 'Spotlight Was On Them'
Powers doubted that such an exercise with the word "Mohammed" would ever have been carried out. O'Reilly said what most bothers him about the incident is that the professor involved is active in Democratic party politics, suggesting that there should be some kind of balance.
Kate Obenshain said that the bigger problem is liberal indoctrination on college campuses and university policy that punishes anyone who speaks out against "liberal orthodoxy." O'Reilly pointed out it's easier for liberals to get away with hate speech than conservatives, agreeing with Obenshain that professors are "so overwhelmingly left" at major universities.
Powers disagreed with the idea that a professor being particularly political means that they are necessarily indoctrinating students. Obenshain countered by saying colleges are almost fully occupied by liberal professors teaching liberal courses and inviting liberal speakers, where students are taught "what to think" and not how to think.
Watch the video below, courtesy of Fox News:
—–
Follow Josh Feldman on Twitter: @feldmaniac
Have a tip we should know? tips@mediaite.com
Josh Feldman - Senior Editor