Kirsten Powers To O'Reilly: Obama Is Lying, 'Playing Word Games' In Trying To Rewrite What He Said On Benghazi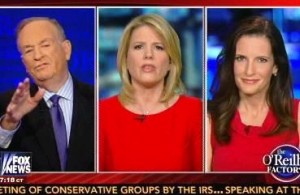 Bill O'Reilly noticed tonight how public reaction is slowly but surely going against the White House following the scandal trifecta it's been hit with this week, with even high-ranking Democrats raising serious questions. Kirsten Powers felt no qualms about calling Obama a liar for trying to claim he immediately referred to Benghazi as an act of terrorism last September, saying that he's just "playing word games" in trying to create revisionist history.
O'Reilly touted The Washington Post awarding Obama "four Pinocchios" for being dishonest about how he described the Benghazi attacks from last September, and ran video of Powers declaring that Obama unequivocally lied about Benghazi. O'Reilly was amazed that she made such a bold statement. Powers explained, "Sometimes you have to call a spade a spade."
RELATED: O'Reilly Spars With GMA's Stephanopoulos On Benghazi: 'Do You Know Who Told Susan Rice To Mislead Everybody?'
O'Reilly asked why Obama appears to be putting his reputation on the line with clearly false comments on his own actions. Powers said Obama is trying to parse the language, but stopped short of speculating on why Obama said it in the first place. O'Reilly declared that Obama is "attempting to rewrite history," while Republican panelist Kate Obenshain declared that while Obama has "gotten away with it" in the past, the lying has become "so ridiculous" the press is pressured into going after him.
Powers agreed with O'Reilly that someone needs to call out Jay Carney for refusing to comment on these stories and past others simply by stating there is an ongoing investigation into the matter. O'Reilly said the White House could still give out general information anyway, even if there really was an investigation in the first place.
Watch the video below, courtesy of Fox News:
—–
Follow Josh Feldman on Twitter: @feldmaniac
Have a tip we should know? tips@mediaite.com
Josh Feldman - Senior Editor