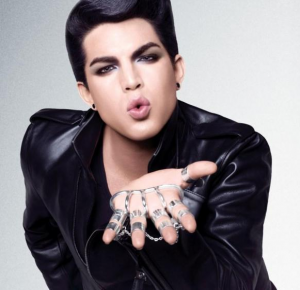 ABC still hasn't forgiven Adam Lambert for his performance at the AMAs: Not content to have un-booked him from Good Morning America (delivering him neatly to the CBS Early Show for a nice ratings bump), they have now disinvited him from Jimmy Kimmel on Dec. 17th, as well as the network's New Year's Eve special. He must be made to pay.
Like, seriously. I could have sworn I saw Jimmy Kimmel and Ben Affleck dressed in mesh and lamé for "I'm F*ing Ben Affleck," the blockbuster follow up to the mega-blockbuster "I'm F*ing Matt Damon." But let's keep it clean, kids! As EW's Michael Slezak points out:
ABC is the home of allegedly family-friendly Dancing With the Stars, where popular pro Derek Hough celebrated a win this past season in the "Group Mambo" round by forcibly thrusting partner Joanna Krupa's head into his nether-regions. (Lambert fans are also dismayed that their man has become a possible FCC pariah despite the fact that Pink and a male dancer executed a similar "please come closer and examine my zipper" dance move — with tongue! — during the 2004 Billboard Music Awards on Fox.)
This seems like a pretty blatantly homophobic double-standard, if you look at that Pink moment (and I have to give that point to Glynnis MacNicol, who said that a woman doing it to a man would not be a big deal — she was right). An ABC spokesperson said, "We decided not to move forward with the booking at this time," declining to elaborate, but what other reason could it be? How "unpredictable" he was? Come on, he's been a good boy on all his appearances since then — even on his Twitter, where he cheerfully brushed off the cancellation ("Yes, sadly friends, ABC has cancelled (sic) my appearances on Kimmel and NYE. :( don't blame them. It's the FCC heat") despite the fact that the FCC only applies "heat" before 10 p.m. and both Kimmel and his AMA performance hit the airwaves later than that.
EW's Slezak is unimpressed with ABC's "shaming as public relations strategy"; so am I. Give this kid — and the rest of us! — a break. It was an envelope-pushing musical awards show moment, and we've seen plenty of them across all the networks. Enough with holding this kid up as an example, especially to appease the less enlightened members of your audience. As Lambert says, "It'll all blow over," which is true — and then ABC will wonder why, in a few years, future superstar Lambert is signing huge deals with every other network.
In the meantime, look for Lambert on Jay Leno on Dec. 21st. As much as people bash Leno for being mild and un-edgy, he's still welcoming him to his show. Maybe, for at least one night, his ratings will reflect it. If those Glambert fans have anything to say about it, I bet they will. ABC's loss.
In the meantime, for your entertainment, I present Adam Lambert:
Have a tip we should know? tips@mediaite.com