Klansman Tells Thom Hartmann Obama 'Illegal President,' Cites Glenn Beck's TheBlaze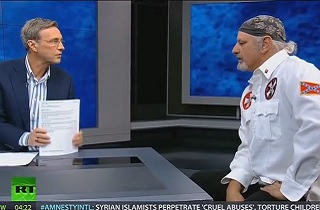 Years after President Obama produced his long-form birth certificate, there is still a sizable portion of the population that insists on questioning his legitimacy to hold the office. On The Big Picture with Thom Hartmann last week, liberal host Thom Hartmann confronted one such doubter, Imperial Wizard of the Confederate White Knights Richard Preston, who thinks "Barack Hussein Obama is an illegal president," and cited Glenn Beck's website TheBlaze as evidence.

Hartmann's segment was pegged to a Klan meeting that was to take place Friday in Maryland, but he began by asking Preston why the Klan wants to see President Obama impeached.
"Well, for one thing, President Barack Hussein Obama has never showed his citizenship papers, no matter who has asked, who has offered, or anything else," Imperial Wizard Preston replied, adding "Glenn Beck's website TheBlaze now has information on it, and it shows that he was an Indonesian citizen from before grade school, clean up through college."
Hartmann asked "Would you be in favor of Ted Cruz as president?"
"I could care less if Ben Carson was president, as long as whoever's president is…" Preston replied, before Hartmann cut him off to remind him that Sen. Cruz was born in Canada, and his father was Cuban.
"Oh, I'm sorry," Preston said. "Yes, I would have a problem with that."
The duo went on to discuss the history of the Ku Klux Klan, and at one point, Hartmann appeared to accuse Klansmen of having small penises. Toward the end of the segment, Hartmann also got Preston to agree that white people don't have it so bad in America. "No American has it all right now," Preston said.
"Well, white people have a whole lot more than anybody else," Hartmann said.
"I'm not saying they don't," Preston replied. "White people have a lot."
The point, he went on to say, is that "this country is being flooded by illegal immigrants that are not coming here to care about becoming American citizens."
Unfortunately, time ran out on the segment before Imperial Wizard Preston could elaborate.
Here's the clip, from The Big Picture:
Have a tip we should know? tips@mediaite.com