Kilmeade: Russia Invading Ukraine 'Preventable,' Unlike 2008 Invasion of Georgia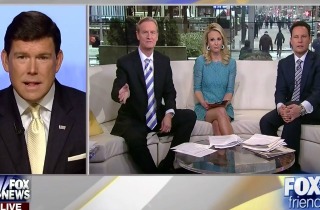 On Monday, Fox & Friends host Brian Kilmeade scolded President Barack Obama and his administration for being unable to both forecast and prevent Russia's invasion of Southern Ukraine. He said that President George W. Bush was largely taken "by surprise" in 2008, when Russia invaded Georgia in order to secure the independence of two Russia-backed breakaway provinces. Kilmeade noted that Obama should have been more prepared to respond to Russia's incursion into Ukraine.

Special Report host Bret Baier began by informing the hosts of the tactics the administration is preparing for a diplomatic blitz, including economic sanctions, designed to get Russia to withdraw from Crimea and not escalate the present crisis.
"The difference between Georgia and here is, I think that the administration was – we were kind of caught by surprise that they went in there, and there was a very vociferous leader," Kilmeade said. "[Former Georgian President Mikheil] Saakashvili was almost taunting the Russians, and we were seen, like, standing by."
"This time, President Obama was on the phone, he made it clear; 'Don't go in, don't go in, don't go in, and they went in anyway," Kilmeade continued. "This was forecastable and preventable if they wanted it to be."
RELATED: Gregory to Rubio: Wasn't Bush 'In Same Predicament' with Russia in 2008?
Baier agreed that Obama's "direct warnings" to Putin to not invade Ukraine were not only ignored but that Russian President Vladimir Putin went to his parliament to seek legal sanction for his military action in Ukraine. Baier said that this was the "boldest" action by Putin, "but to be expected if you look at his past."
Watch the clip below via Fox News Channel:
[Photo via screen grab ]
— —
> >Follow Noah Rothman (@NoahCRothman) on Twitter
Have a tip we should know? tips@mediaite.com