Knocked By Some, Dubbed 'Amazing' By Others, CNN's John King Tells Mediaite GOP Debate Went Well Even If He 'Could've Been Better'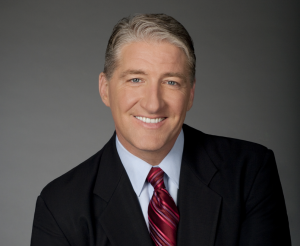 CNN's John King, who's one of the most popular guys among Washington journalists, has gotten some gentle ribbing today for his work moderating last night's Republican presidential debate in New Hampshire. Politico's Caitlin McDevitt called King "the grunting moderator," suggesting King's efforts to keep the seven-candidate debate moving "sounded a lot like grunting." McDevitt wrote, "instead of interrupting the candidates forcefully, King would signal that their time was up by uttering 'uh' over and over again or repeatedly saying 'all right' or 'OK'."
In an exclusive interview today with Mediaite, King said he hasn't had a chance to watch the debate on TV, noting things look and sound very different in the hall. But he admits it was a constant balancing act–letting candidates answer questions without cutting them off, while also keeping the debate moving. "If I was making noises that distracted people, I apologize." King said at first, he tried to wrap candidates answers with a firm "okay, okay," but became concerned he was stepping on them. So he tried to tone his time cues down a bit, and that may have ended up sounding more like "grunting."
"It was a frustrating debate as a viewer," said MSNBC's Joe Scarborough, who said those efforts at interrupting felt like "constant interruptions."
"I'm trying to keep the thing moving," King said. "We need to move on, but I'm responsible…I could've been better at some things. It was an interesting learning curve (managing) seven candidates."
And some–including many of King's Capitol Hill competitors–thought his work was stellar, given a tough assignment of keeping seven would-be presidents from dominating the event (a post-debate analysis showed the difference in air time between each of the seven was minimal, about sixty seconds from Mitt Romney, who spoke the most, to Herman Cain, who said the least) and making sure the two hours were informative and interesting for viewers.
The Baltimore Sun's David Zurawik said King–and CNN–set the bar high for future debates:
King was kind of amazing — and that is not a word I toss around lightly in talking about cable TV anchors. I don't think I heard him hesitate or fumble over one word all night. And maybe there was an amped-up producer pouring facts and figures into his ear all night, but I don't think so. I think all that political knowlegde and data really is stored somewhere inside King's brain, and when he is all jacked up on politics like he was last night, it is kind of awesome to watch all that information come flying out of his mouth a million words a minute.

And this was not an easy septet of Republican cats to wrangle. At first, Newt Gingrich seemed to want to act like King's questions were not the ones he should be asked. And Mitt Romney had his talking points in the best order I've ever seen them — and he was intent on not letting any moderator cut him short. And then, there's Michele Bachman who knows how to light up a crowd. As a male moderator, you step on her words or cut her off, and you can find yourself looking like a fool and bully in a heartbeat. (By the way, for my money, Romney and Bachman were the two candidates who did best in TV terms – especially Bachman.)

But King handled them all. He didn't try to squash the candidates into neat little overproduced boxes — he allowed them enough space most of the time to try to articulate their positions.
On a far lighter note, Rush Limbaugh knocked some of King's quirkier questions today, joining critics (including this one) who dissed King's pop culture questions, asking candidates to choose "Blackberry or iPhone" or "Dancing with the Stars or American Idol." King says he was inspired to add those non-political questions in an effort to prod candidates to show off their smiles, personality–or lack thereof. "The goal was not to see if they like Coke or Pepsi, but to see if they laugh. Do they have a personality? How do they handle a stupid question?"
Sounds reasonable, so I asked. John King: Breaking Bad or The Wire? "Good question. The Wire."
Have a tip we should know? tips@mediaite.com