Kony Victim On CNN: Focus Needs To Be On Abducted Children, Not The Man Himself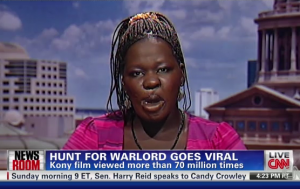 The KONY 2012 campaign, intended to make the African warlord Joseph Kony known worldwide, has been faced with some particularly strong criticisms. On CNN last night, one of Kony's victims came out strongly against the campaign, arguing that the focus of the international community should not be on the man, but his child victims who do not have anyone speaking for them.
RELATED: How Kony 2012 Is Raising Awareness, But Also Raising Questions
Evelyn Apoko was taken by the Lord's Resistance Army when she was 13, and was beaten and tortured for three years before finally escaping. Apoko made a YouTube video last fall responding to Rush Limbaugh's attack on President Obama for sending troops to fight the LRA, and is currently involved with the Strongheart Fellowship Program, an organization which, according to their website, "provides extraordinary opportunity for exceptional young people from extremely challenging circumstances," especially those who have been "displaced or orphaned by war."
Don Lemon asked her last night what her reaction to the KONY 2012 campaign was. Apoko said film should not be aiming to make Kony famous, but to make the children he has abducted famous.
"The way I feel about the campaign… in my own opinion is, I think that I would be glad to see the faces of the children who are being abducted, to make those kids become well-known to the people around the world, not the face of Joseph Kony. Because Joseph Kony, he is the one who abducted those young kids. I feel like it might be better if it were the faces of the children, it's better than Joseph Kony himself."
Lemon brought up the ties between Invisible Children, the organization that released the film, and the Ugandan government, and asked Apoko if working with the government is the best strategy for taking down Kony. Apoko said there are other ways they could go to apprehend Kony, but she insisted that even if Kony could be tracked down easily, he still has children that he can use as human shields.
RELATED: Red Eye Panel On Why 'Kony 2012? Has Wheels: 'Tweens Love Ugandan Warlords'
Later in the interview, when recounting her personal experience as a victim of Kony's, Apoko said she is "not happy" with the direction the filmmakers took, and said she is very much against the KONY 2012 campaign.
Watch the full interview below, courtesy of CNN:
Have a tip we should know? tips@mediaite.com
Josh Feldman - Senior Editor