O'Reilly And Krauthammer Tear Apart 'Bystander President': 'Leading From Behind,' 'Legacy Is In Trouble'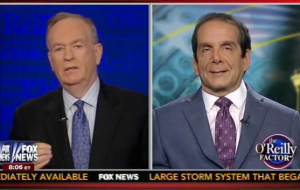 Bill O'Reilly and Charles Krauthammer tonight both hammered President Obama's tepid handling of the innumerable scandals facing his administration. O'Reilly declared in his Talking Points Memo that Obama is banking on Americans "getting tired of all the controversies" and losing interest, so he's just ignoring them until the country moves on to something else. Krauthammer told O'Reilly that Obama often seems so detached that he almost looks like a "bystander to his own presidency" who makes a short public comment or two on the NSA, IRS, etc., and then just fades into the background.
RELATED: Ralph Nader Slams Obama Again: 'Has There Ever Been A Bigger Con Man In White House?'
Krauthammer said that Obama always "acts as if he's just stumbled on the scene of an accident, and he's just catching up." When people say Obama is "leading from behind," Krauthammer explained that's merely a "kind way of saying 'no leadership at all." O'Reilly brought up the more "conspiratorial point of view" on the right that Obama knows everything and is just using the government for self-benefit and the benefit of the Democratic party.
Krauthammer said that on every issue, from Libyan intervention to immigration to gun control, Obama has been "pushed into it by the party" or events beyond his control, declaring that Obama is by and large "the bystander president."
O'Reilly predicted that if Obama continues to let others define the scandals in his administration, the Republicans will make gains in 2014 and he will personally risk both his presidency and his legacy. Krauthammer said Obama needs to go on TV and deliver a public address on the NSA scandal, because whenever something like this pops up, he makes a few comments and then "disappears."
Watch the video below, courtesy of Fox News:
—–
Follow Josh Feldman on Twitter: @feldmaniac
Have a tip we should know? tips@mediaite.com
Josh Feldman - Senior Editor