Krauthammer Defends O'Reilly's Criticism Of Obama For Calling Boston Bombing A 'Tragedy'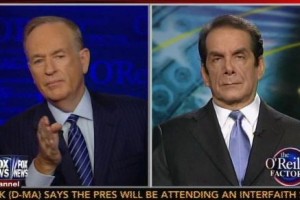 Charles Krauthammer joined Bill O'Reilly tonight to talk about the aftermath of yesterday's bombing in Boston, and started off his appearance by defending O'Reilly's verbal nitpicking last night over President Obama's use of the word "tragedy." Krauthammer argued that the word is not applicable when "human evil" is the cause, commenting that FDR never referred to Pearl Harbor as "a day that will live in tragedy."


RELATED: Exactly One Guess: Who Else Made Same 'Mistake' That Bill O'Reilly Slammed President Obama For?
O'Reilly made it clear he didn't have a problem with Obama not using the word "terrorism" in his address Monday night, but found the word "tragedy" to be used "in the wrong way." Krauthammer agreed and defended O'Reilly's position.
"A bus accident is a tragedy, an attack on a bus is a crime or an act of war. When FDR addressed the Congress after Pearl Harbor, he didn't say 'December 7th, a day that will live in tragedy'… An accident is a tragedy, and it has a cause, and it has to do with fate, serendipity, accident, luck. But when the agency is human evil, that's beyond a tragedy and it's a crime."
However, the two men disagreed on the state of U.S. intelligence in the past decade. O'Reilly said that overall, the intelligence community has done a good job defending the country, with Krauthammer saying that they have been "awful" in their understanding of nuclear weapons, citing over- and under-estimations of Iraq and North Korean weapons.
Krauthammer concluded, "I just make a difference between operationally, they've been incredibly good, but in terms of assessment of the potential of our enemies, ever since the Russians exploded the bomb in '49, we've gotten it wrong every single time."
Watch the video below, courtesy of Fox News:
—–
Follow Josh Feldman on Twitter: @feldmaniac
Have a tip we should know? tips@mediaite.com
Josh Feldman - Senior Editor