Krauthammer: Dems Will Regret Allowing Obama's 'Lawlessness' When GOP Returns to Power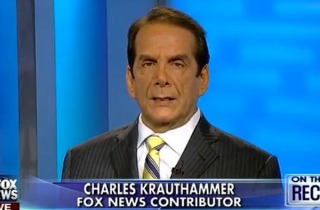 Appearing on Friday night's On the Record, conservative columnist Charles Krauthammer strongly criticized President Barack Obama for his "cavalier attitude" towards the separation of powers enshrined in the Constitution. "Democrats will rue the day that they allowed all this," Krauthammer declared.

"I'm talking about how the administration, particularly the president, seems to think that he has the right to change duly passed statutes on his own or to suspend parts of laws on his own," Krauthammer said when asked to clarify his critique of the Obama administration's "lawlessness."
"The Constitution is pretty clear," he continued, "the Congress passes the laws and the president executes the laws."
Krauthammer cited Obama's unilateral delaying of aspects of the Affordable Care Act and his appointing of administration officials via recess appointment while the Senate was in session. "This is a very cavalier attitude," he added.
The columnist said that the president's direction to insurers to reinstate policies that were cancelled as a result of new coverage requirements in the ACA is the most recent and most egregious example of Obama's "lawlessness."
RELATED: Krauthammer: Obamacare Fix a 'Sham,' Obama Doesn't Really Want Cancelled Plans to Be Renewed
"Obama's own law is something that he ignores," Krauthammer asserted.
"Do you think this is on the rise inside the beltway?" fill-in anchor Harris Faulkner asked, observing that this style of executive governance has been an increasing over the decades.
"I think it is because I think there is so much hostilities between the parties that the one party in power is willing to overlook all kinds of illegalities, all kinds of violation of constitutional norms, if it satisfies their political interests, if it advances their agenda," Krauthammer agreed.
Watch the clip below via Fox News Channel:
h/t The Blaze
[Photo via screen grab ]
— —
> >Follow Noah Rothman (@NoahCRothman) on Twitter
Have a tip we should know? tips@mediaite.com