Krauthammer: It Will Snow in Hell Before DOJ Launches Criminal Investigation into Hillary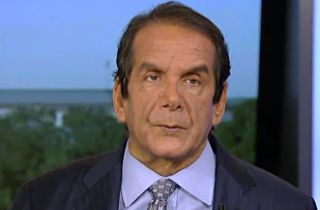 On Fox News today, Bret Baier brought the subject to Hillary Clinton's emails, which got renewed media focus following a report that the Department of Justice received requests to open a criminal investigation into the scandal. The DOJ later backtracked by saying that the referral they received was not actually criminal in nature.
After reading a statement from a Clinton spokesman, Baier said that it was a common maneuver of Hillary to place the blame on "reckless, inaccurate leaks" whenever she is being pressed on her emails.
Charles Krauthammer agreed, saying that whether the Times report was false or not, the substance of the charges against Clinton are still present, and she is trying to create distractions and shift blame onto others.
He said it's be up to the DOJ to actually determine the criminality of any charges brought against Clinton, but was doubtful on that prospect, saying "I think it will snow in Hell before the DOJ is going to go after her."
Krauthammer also blasted the DOJ as "an extremely politicized department," saying they weren't going after her for being untruthful like they were when former CIA director David Petraeus was discovered having an extramarital affair.
He concluded by saying that even though Clinton insisted otherwise at her speech today, the intelligence community made it clear that the emails she sent out had classified information, and she resisted handing them over.
You can watch the segment here, via Fox News:
[image via screengrab]
Have a tip we should know? tips@mediaite.com