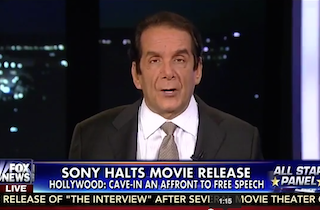 Fox News contributor Charles Krauthammer thinks Sony Pictures made "exactly the wrong decision" when they decided to pull The Interview from theaters after receiving terror threats from the North Korea-affiliated hackers that committed a massive cyber-attack on the company last month.
Echoing Mitt Romney (of all people), Krauthammer said he believes Sony should put the film online for free so it is seen be as many people as possible.
Since they are already guaranteed to lose money on the project now that major theater chains have said they will not show it, Krauthammer said they should "write it off" and post it on the internet for free. "It's a gesture" to the fans, he said. "But also, it doubly screws over Pyongyang."
"The whole cyber-attack was so the world wouldn't see the movie," he continued. "Well now the world will see it in far larger numbers than it would if it were a paying proposition at the theaters." While Krauthammer didn't exactly think a "comedy about North Korea" would be a huge draw for audiences, he did think Americans deserve the chance to see it.
While Sony's initial statement only said they were canceling the film's "theatrical release," they have since indicated that they have "no plans" to release it online or through video on demand services. If that is the route they end up taking, it will no doubt still be seen by a large number of people through illegal bootleg downloads.
Watch video below, via Fox News:
[Photo via screengrab]
— —
>> Follow Matt Wilstein (@TheMattWilstein) on Twitter
Have a tip we should know? tips@mediaite.com