Krauthammer Mocks Rand Paul For 'Absurd And Ridiculous' Drone Concerns: 'Not A Serious Issue'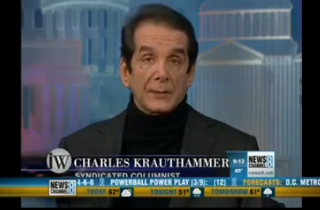 Appearing on this weekend's Inside Washington, conservative columnist Charles Krauthammer blasted Sen. Rand Paul's drone concerns as "not a serious issue," mocking that just last week a friend of his friend was blown away by a drone strike while barbecuing poolside.
Last week, in the aftermath of Paul's 13-hour Senate filibuster over the administration's unclear answer on whether it has the authority to drone strike American citizens on U.S. soil, Krauthammer seemed to side with the civil libertarian senator, praising his stand as "genius" and lauding the potential "rejuvenation" of the GOP grassroots.
However, Krauthammer's mockery now makes it clear that he was simply one of those I labeled "bandwagon jumpers" — conservatives who only praised Paul not because of civil liberties concerns, but because his stand can be construed as anti-Obama — providing further evidence for my colleague Noah Rothman's own theory that the Paul filibuster could ultimately drive apart the conservo-libertarian fusionist coalition rather than unite.
When warfare-state conservatives like Krauthammer, Bill Kristol, and John McCain mock libertarians as "dorm-room philosophers" and the "Code Pink wing" of the GOP, it kind of pushes the movement even further away from wanting to work with them.
"Well, look, I am grateful he raised this issue, because I think we have reached a point in the country where we are sick and tired of the way the administration is going around blowing people to kingdom come while sitting in their living rooms because of a suspicion," Krauthammer said on the syndicated political show, mimicking concern for Paul's hypothetical situation (one that wasn't actually the point of the filibuster).
But then he ridiculed: "Just last week, my neighbor was blown away during a chicken barbecue by his pool."
After pausing for laughter for his own joke, Krauthammer continued to tear into Paul's hypothetical "café drone bombing" situation: "Look, of all of the issues that we are looking at in the country — insolvency, war in North Africa, Iran going nuclear — this is the most ridiculous and absurd."
"The problem was that the president's attorney general stumbled around and didn't know how to answer a question," he continued, revealing the only reason he'd ever have gotten behind the Paul filibuster: not because of any civil liberties concerns, but because it took on the dreaded Obama administration.
"It is not a serious issue," he dismissed. "There is no conceivable circumstance under which the president would use a drone in the United States, absent a civil war like we had in the 1860s or an invasion of al Qaeda from Saskatchewan."
In the end, Krauthammer asserted, Paul "cleverly" chose a conjectural issue "on which everybody agrees" in order to rally support and shroud his true intentions: the "undermining" of Krauthammer's much-loved overseas drone attacks.
UPDATE: A friend reminds me that Krauthammer once called for a ban on domestic drone strikes, which led many to believe he'd always been part of the anti-drone movement (at least when it doesn't involve foreign victims). This makes his pivot all the more fascinating.
Watch below, via WJLA:
[h/t
MofoPolitics
]
— —
>> Follow Andrew Kirell (@AndrewKirell) on Twitter
Have a tip we should know? [email protected]