Krauthammer: Obama 'Flinched' on Syria, Made U.S. Look Like it 'Chickened Out'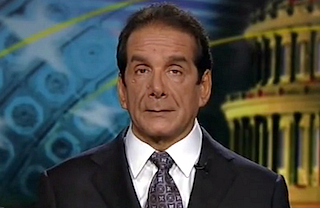 Appearing on Fox News shortly after Barack Obama's Syria speech, Washington Post columnist Charles Krauthammer accused Obama of "flinching" by sending authorization of military intervention to Syria.
"You can't leave the region hanging," Krauthammer said. "It looks absolutely as if the United States has chickened out."
"Even though I think a limited attack is not the right thing to do, at this point he has to do something, or we will have reached the lowest ebb of American influence in the region since 1970," he said.
Krauthammer strongly disapproved of Obama's timetable, which allows for Congress to debate military interaction, presumably when the chambers get back in session on September 9th. The analyst said Syrians being attacked by their own government have no such lack of urgency.
"They hear a president who has no idea what he is doing and speaks about this in a leisurely way," Krauthammer said. "What the president ought to do—I can't believe that he actually decided otherwise—was to bring in Congress tomorrow. We have Reagan Airport, National Airport, Dulles, BWI. You can use the Air Force. You bring in the members of Congress, you have a debate for two days and you have a resolution."
Fox News analyst Juan Williams tried to mitigate Krauthammer's criticism. "This has a very strong political taint," Williams said. "If you want to say Obama is weak—you know why he is weak? It is not because of failure to act. It is because 80% of the American people think he shouldn't act."
Krauthammer wasn't having it. "Everyone in the region understands what's happening here," he concluded. "The president flinched."
Watch the full clip below, via Fox News:
————
>> Follow Evan McMurry (@evanmcmurry) on Twitter
Image via Fox
Have a tip we should know? tips@mediaite.com