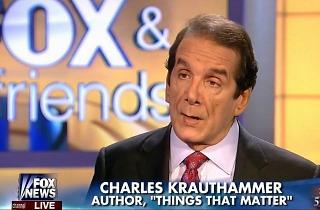 Syndicated columnist Charles Krauthammer sat down with Fox & Friends host Brian Kilmeade on Friday where he asserted his belief that vulnerable Democrats in Congress, not Republicans, would do the work of undermining the Affordable Care Act until it is no longer sustainable. During that wide-ranging interview, Krauthammer also observed that, had President John F. Kennedy lived, he would be so far to the right of the modern Democrats that he may have felt more at home in the Republican Party.

Kilmeade opened the interview by asking Krauthammer about the Senate Democrats' move to limit the ability to filibuster judicial nominees. "For them, this is a short term gain and it's a huge long-term risk," Krauthammer said. "They're likely to lose the Senate next year. I think they're also likely to lose the White House in 2016.
He went on to say that Republicans do not plan to limit this to judicial nominees alone and will push to approve Supreme Court nominees by simple majority vote as well. Krauthammer said Democrats would "rue the day" they decided to use the nuclear option.
Krauthammer added that the Democrats in the Senate only did this as a way of maximizing cohesion within the liberal base because they were beginning to lose faith in the Affordable Care Act. Kilmeade said some columnists were predicting that the ACA would collapse on its own.
"I think the ultimate repudiation of Obama and his kind of extremely ideological and ambitious liberalism," Krauthammer replied, " is not if Republicans are the ones would repeal it, but Democrats."
RELATED: Joe Concha to Megyn Kelly: Why Won't Women of MSNBC Condemn Bashir's Attack on Palin?
He observed that vulnerable Senate Democrats are willing to reform the law in ways which may render it unsustainable. He said that reforming the law in ways that would eventually result in its repeal "will come from Democrats."
"We don't have to replace Obamacare," he asserted. "We're going to address the problem of the uninsured, of the preconditions, and stuff like that, which can be done discreetly without revolutionizing how care is delivered to everybody."
Watch part 1 below via Fox News Channel:
After the Break, Krauthammer was asked about the anniversary of JFK's death and whether or not his anti-tax rhetoric would make him a bad fit for the modern Democratic Party.
"What's happened is, the parties have shifted over these decades," Krauthammer said. "I write in the book, one reasons why I shifted is because, on foreign policy, the Democrats changed. I didn't."
"He was a very strong anti-communist, like [Harry] Truman," the columnist continued. "And that tradition of the Democrats being really tough on the Soviets, strong for national defense, withered away after the Vietnam War."
"He would have been what's called today either Republican or Conservative on foreign affairs," Krauthammer declared. "So, it was a huge shift in the party and that's why I think JFK today would have been, in terms of foreign affairs, a conservative, and on domestic affairs, a tax-cutter."
Watch part 2 below via Fox News Channel:
[Photo via screen grab ]
— —
> >Follow Noah Rothman (@NoahCRothman) on Twitter
Have a tip we should know? [email protected]