Krauthammer: Rep. Barton's BP Apology "The Most Politically Stupid Statement" Of Year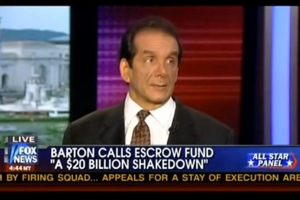 Texas Congressman Joe Barton's apology to BP– and apology for his apology to BP– somehow managed to be the most egregious statement in an event that featured five hours of BP CEO Tony Hayward speaking. And after being scolded by mostly everyone in both the media and his home turf of politics, Fox News analyst Charles Krauthammer gave him an award for his achievement: the Most Politically Stupid Statement of the Year award.
On the Special Report panel, Krauthammer lay into Barton's surprising comments, wondering where the phrasing of the idea as an apology to BP would even come from:
"I think that wins the award for the Most Politically Stupid Statement of the Year and we can retire it right now, in June. It's actually astonishing. The guy apologized and then he apologizes for his apology in one day. I think that's the world indoor record for that. Look, you don't express sympathy for a corporation that is sort of soiled and destroyed, and that is destroying the Gulf Coast."
It's pretty hard to disagree that, has many in the media have commented, taking the spotlight away from the most hated man in America and making him seem well-grounded in comparison is a bad idea. That said, Krauthammer was slightly more sympathetic to the general idea behind Barton's statements, that "we don't like the precedent" set by the government forcing a corporation to give them money. It's the language that Krauthammer objected to, and much more for its political implications than its ideas, a point which fellow panelist Juan Williams challenged him on pretty vigorously.
Video from the "All-Star Panel" below:

Have a tip we should know? tips@mediaite.com