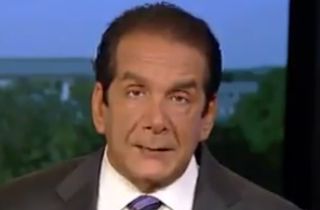 Charles Krauthammer was surprised on yesterday's episode of Special Report that the Department of Justice was able to take control of Hillary Clinton's home server as quickly as they did. Krauthammer has previously said that it was only a matter of time before the government would force her hand during the investigation, and that it is now affecting how her voters are seeing her.
Krauthammer stated that he saw two reasons why Bernie Sander's numbers have taken an upswing in recent polls that have placed him on par with Clinton. the first reason he gave was that the email scandal is weighing her down and causing people to lose trust in her.
"It's a fact, and it gets worse and now we know it's not going to stop," Krauthammer said. He went on to say that the issue is likely to drag Clinton down even further, but "it's going to be months long and could take us all the way up to the middle of next year or longer."
The second reason Krauthammer proposed is because Sanders represents a more socialist position than Clinton. He compared Sander's bridged relationship between establishment and grassroots to the divisions of the GOP, and said that while Clinton has tried to move left from her more moderate position, her token gestures are being interpreted as just another change on her end.
She has been headed left on just about every issue as a way to stem the tide, it is not succeeding," Krauthammer said. "In part, it's a matter of trust because I don't think the Democratic left base believes a word she says when she changes her positions and heads leftward."
You can watch the segment here:
[image via screengrab]
— —
>> Follow Ken Meyer (@KenMeyer91) on Twitter
Have a tip we should know? [email protected]