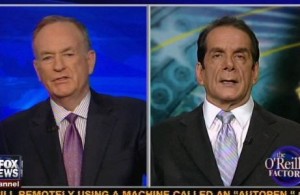 On his first show of the new year, Bill O'Reilly brought on Charles Krauthammer to take on the last-minute fiscal cliff deal cobbled together by Congress. Krauthammer went after President Obama for rejecting compromise legislation that didn't have enough spending cuts because he wanted to score political points over the Republican party, and by doing so, Krauthammer said the president successfully "neutered" the Republican-led House.
RELATED: Obama Speaks On Fiscal Cliff: 'There Wasn't Enough Support Or Time' For A Better Deal
Krauthammer said that there is "not a shred of evidence" that the president is interested in cutting any spending, arguing that while Obama said in his address last night that he wanted to cut spending, his language over increasing "investments" indicates he wants to raise spending anyway. O'Reilly wondered why Obama doesn't understand that the nation's huge debt would "wreck the currency if not checked," suggesting the president may just be "ignorant of macroeconomics."
Krauthammer placed the blame squarely on Obama's political ideology and desire to implement social justice through economic policy. O'Reilly admitted he was amazed at how lucky Obama seems to be politically, with both he and Krauthammer saying Obama should be studying economic failures in other nations to avoid the same kind of crisis.
Krauthammer predicted Obama has no interest in balancing the budget, even for the sake of his political legacy, and dismissed the idea that Obama won reelection with any kind of mandate. On O'Reilly's suggestion that Obama is out to "destroy the Republican party, not defeat it," Krauthammer agreed and said that when Obama was offered a deal with the amount of cuts he wanted, he rejected it for political reasons.
"He knew that would accentuate the fractures, the fissures in the Republican party, it would neutralize the one oppositionist institution, the House of Representatives, that's exactly what happened. He succeeded in that. The House has been neutered."
Watch the video below, courtesy of Fox News:
—–
Follow Josh Feldman on Twitter: @feldmaniac
Have a tip we should know? tips@mediaite.com
Josh Feldman - Senior Editor