Krauthammer To O'Reilly: Obama Wants U.S. To Be European-Style Social Democracy, But Won't Admit It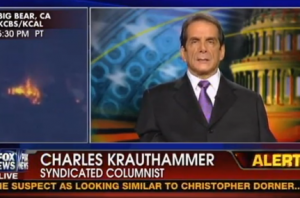 Previewing the State of the Union tonight, Charles Krauthammer told Bill O'Reilly that President Obama always talks about increasing spending at home and reducing it abroad, but he will never come out and admit that he wants to gut the military in order to make the United States more like a European social democratic state.
RELATED: O'Reilly And Krauthammer Debate: Is Obama The Problem? Or Is It 'We The People?'
O'Reilly brought up comments earlier today by former vice president Dick Cheney that Obama wants to do "serious damage" to the military. Krauthammer said that at his very core, Obama is a "European social democrat" interested in leveling the classes and promoting social justice, and the way he subsidizes an entitlement state is by raising taxes and reducing defense spending. Krauthammer declared that "the reason he is president" is to create a European-style social democracy.
O'Reilly asked why Obama would not simply admit that, since he no longer has to worry about running for office. Krauthammer doubted it would be an "appealing argument," but he often alludes to this line of thinking when he talks about prioritizing spending at home and not abroad in foreign conflicts. He said Obama recognizes he needs to "speak the language of the people," so instead he just talks about having a "lean" military.
O'Reilly admitted he's "getting tired of the dance" and would like Obama to just outright admit he wants to raise taxes. He and Krauthammer agreed that Obama hides behind language like "loopholes" to dodge directly addressing it.
Finally, O'Reilly said that in his many years of covering State of the Union addresses, he has found every single one of them to be "propaganda" for the administration. Krauthammer predicted that Obama wants to use the speech to "crush Republicans," and if he keeps pulling this off successfully, he will soon have the "unopposed" high road to run Washington the way he wants.
Watch the video below, courtesy of Fox News:
—–
Follow Josh Feldman on Twitter: @feldmaniac
Have a tip we should know? tips@mediaite.com
Josh Feldman - Senior Editor