Kristol Dismisses Filibuster 'Dysfunction': Real Problem is Why Senate Won't Take Up House Bills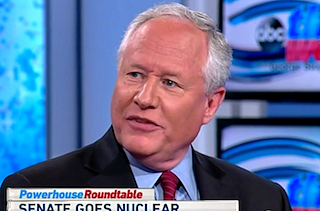 On This Week With George Stephanopoulos Sunday morning, Weekly Standard editor Bill Kristol criticized Senate Majority Leader Harry Reid's (D-NV) so-called "nuclear option"— that eliminated the non-talking filibuster to prevent GOP senators from blocking judicial nominations—arguing that Reid had created the dysfunction he just changed the rules to prevent.
"I think we're being too nice here," Kristol said, referring to the "both sides are to blame" tenor of the conversation. "Harry Reid agreed with Mitch McConnell (R-KY) that this would not happen in this session. They actually negotiated something at the beginning of the session. So, he's simply breaking his word because Republicans were not confirming every appellate court judge as quickly as the administration liked, and were holding up some executive branch appointees longer—"
"A lot of them," Cokie Roberts corrected.
RELATED: MSNBC's Kornacki on Hardball: GOP 'Secretly Relieved' Reid Went with Nuclear Option
"168 filibusters in the history of the country," Donna Brazile said, "82 under President Obama."
"A lot of those filibusters were because Harry Reid introduced the bill, filled the tree, as they say, with amendments, and invoked cloture, and it's called a quote 'filibuster,'" Kristol said. "Reid's behavior as majority leader has been pretty amazing. The House routinely passes legislation the Senate simply doesn't take up. It's fine: bring it to the floor. If they want to filibuster, filibuster; if the Democrats have the votes to beat it, beat it. But they don't even take up stuff that the House passes."
"But there are more than 200 nominations sitting there not confirmed," Roberts said. "That is dysfunctional, certainly."
Watch the full clip below, via ABC News:
[Image via screengrab]
——
>> Follow Evan McMurry (@evanmcmurry) on Twitter
Have a tip we should know? tips@mediaite.com