Krugman Slams GOP For Debt Ceiling Threat On ABC's This Week: 'This Is Hostage-Taking'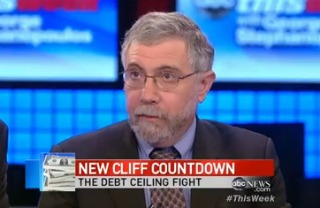 New York Times columnist Paul Krugman slammed the GOP for threatening not to raise the debt ceiling on ABC's This Week Sunday. "We should not allow this to become thought of as a legitimate or normal budget strategy," he said. "This is hostage-taking."
Krugman, a Nobel Prize winning economist, explained the debt ceiling as "fundamentally stupid" but "dangerous" nonetheless:
"We have Congress that tells the president how much he must spend, tells him how much he's allowed to collect in taxes. He says, 'Okay there's a difference there, I've got to borrow it.' No, you can't borrow it. So the whole debt ceiling thing itself is a crazy thing and forces the president to do something illegal – either to defy Congress on what it told him to spend or defy them on borrowing."
Republicans, Krugman said, are "threatening to blow up the world economy" by holding the debt ceiling.
RELATED: Treasury Department Will Not Mint Platinum Coin To Solve Debt Ceiling Crisis
"This is walking into a room, saying I've got a bomb – give me what I want or I'll blow up this room," he added.
Krugman called the consequences of not raising the debt ceiling "incredibly scary" because "we don't know what it does." Government debt in the U.S. is the "global safe asset," he continued, and it's "what every financial transaction relies on as the ultimate."
"This has never happened before and should not be allowed to happen," he added.
Fellow panelist Peggy Noonan said that she believes the president should be "sitting down and talking" with the opposition. Krugman disagreed and said "this is not something to negotiate over."
"You do not negotiate with hostage-takers," he added.
Watch the clip below, via ABC:

—
>>
Follow Anjali Sareen (@AnjaliSareen) On Twitter
Have a tip we should know? tips@mediaite.com