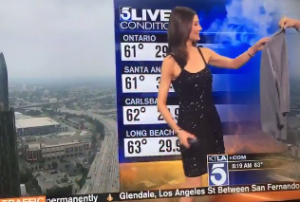 The anchors of the Los Angeles station that sparked a huge Internet backlash when they told meteorologist Liberté Chan to cover up with a sweater on live TV addressed the situation Monday, telling viewers the entire thing was just a joke in line with the station's zany reputation.
KTLA anchor Sam Rubin explained that Chan came into work wearing a dress that didn't work well with the green screen. She put on a black sparkling evening dress that she had in her office, which triggered complaints from viewers. Handing her the sweater, he said, was more about mocking the priggish viewers than Chan.
"On average, we do what, 6.8 gags per morning?" Rubin said. "Some work, some don't. But there's a certain atmosphere here."
He then read from a statement Chan put out on her blog:
For the record, I was not ordered by KTLA to put on the sweater. I was simply playing along with my co-anchor's joke, and if you've ever watched the morning show, you know we poke fun at each other all the time. And, also for the record, there is no controversy at KTLA. My bosses did not order me to put on the cardigan, it was a spontaneous moment. I truly love my job, I like my bosses and enjoy working with my coworkers.
"If you watch the show, you understand here we tease each other," agreed co-host Jessica Holmes. "We tease each other relentlessly and that's part of our charm."
The anchors had some fun with the situation, pretending to force Rubin to change his tie. The anchors specifically called out The New York Daily News, which declared that the sweater incident "showcases America's problems."
"This is America's biggest problem?" Holmes asked incredulously.
Watch above, via KTLA.
[Image via screengrab]
——
>>Follow Alex Griswold (@HashtagGriswold) on Twitter
Have a tip we should know? tips@mediaite.com