Howard Kurtz: Hyped Obama Tape 'Biggest Disappointment Since Geraldo Opened Up Al Capone's Safe'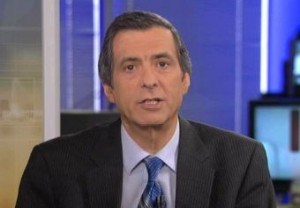 Yesterday afternoon, Drudge Report founder Matt Drudge teased footage of a 2007 Obama speech that he expected to "cause controversy," among other things, but Daily Beast writer Howard Kurtz told CNN's Brooke Baldwin on Wednesday that the much-hyped clip did not live up to the buzz.
When asked by Baldwin why the five-year-old tape was treated like breaking news to some, Kurtz said over the phone:
"If the mainstream media were trying to cover up this 2007 speech, they did a pretty lousy job of it, as you just demonstrated by playing those clips from CNN. I mean, this is the biggest disappointment since Geraldo [Rivera] opened up Al Capone's safe. It was touted all day on the Drudge Report and of course it was played up on Sean Hannity's Fox News show and yet as you've just amply demonstrated there's nothing new about this speech. The reason it didn't cause much of a ripple at the time is that candidate Barack Obama didn't say anything terribly controversial."
Kurtz was likening the viral Daily Caller "exclusive" clip to current Fox News reporter Geraldo Rivera's infamously disappointing exploration of gangster Al Capone's vaults. In 1986, Rivera headlined a special segment titled, "The Mystery of Al Capone's Vaults," which was expected to feature bodies, money, and other wild and scandalous discoveries. The search through Capone's vaults proved anti-climactic, as only dirt was found.
That's how this clip, which shows Obama speaking at Hampton University, is being treated by the right, Kurtz said. Referencing the Daily Caller story, Kurtz acknowledged that Obama claimed the government didn't do enough to help Hurricane Katrina victims and that blacks were frustrated, but attested that such comments weren't as "inflammatory as the Daily Caller and Drudge and Sean Hannity seem to think."
Watch the full clip below, via CNN:
—
>> Follow Laura (@LauraDonovanUA) on Twitter
Have a tip we should know? tips@mediaite.com