Kurtz Chides Hannity For Ceding 'The High Ground' By Leveling 'Radical Muslim' Charges Against Keith Ellison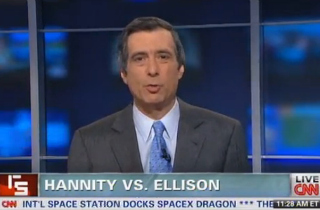 On CNN's Reliable Sources this morning, Howard Kurtz continued his praise for Sean Hannity's handling of a tense showdown with Rep. Keith Ellison (D-MN) but then chided the Fox host for ceding "the high ground" subsequently leveling attacks against the congressman as being a Muslim equivalent of the Klu Klux Klan.

Earlier this week, Ellison and the Fox host got into a heated exchange with the congressman accusing Hannity of "yellow journalism" and being an "immoral" "liar."
Reiterating his thoughts on the tussle, Kurtz said, "Sean Hannity isn't exactly known for being shy but when he got into the heated confrontation, it was the guest that picked the fight. Keith Ellison went on the offensive immediately after Hannity tried to blame President Obama for the stalemate. He did it in a highly personal way."
During the Fox interview, Kurtz noted, Ellison repeatedly accused Hannity of "shilling" for the Republican Party. "Hannity often defends the GOP, but he isn't a registered Republican. What was troubling here that Ellison accepted the invitation to come on and then only attacked Hannity."
In a statement to Kurtz, Ellison defended his actions by claiming he was simply "standing up to Hannity" because of how important the sequester's cuts will be for millions of American workers. "[Hannity] wasn't wrong," Kurtz concluded, siding with the Fox host.
Despite all of that, Kurtz added that he had to "deduct" points from Hannity because of how, later in the week, the Fox host leveled several attacks tying Ellison's law school tenure to controversial "radical" Muslim thinkers like Louis Farrakhan and comparing the congressman to the Klu Klux Klan.
"And with that, Hannity surrendered the high ground," Kurtz concluded.
Watch below, via CNN:
— —
>> Follow Andrew Kirell (@AndrewKirell) on Twitter
Have a tip we should know? tips@mediaite.com