Kurtz: Media Freaked Out over Obscure GOP Staffer, But Near-Silent on Gruber?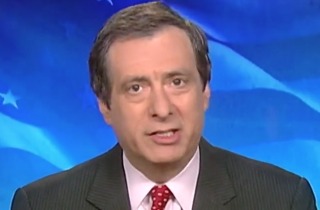 Fox News' Howard Kurtz asked a big question tonight: how is it the media completely freaked out about the comments of one "obscure Republican staffer" but barely covered comments made by Obamacare architect Jonathan Gruber.
In case you're one of the few people who hasn't heard yet, Elizabeth Lauten, a now ex-communications director for a Republican congressman, scolded Malia and Sasha Obama for not showing enough class at the presidential turkey pardon. There was a TON of media coverage, Lauten resigned, and one CNN anchor went so far as to call it "cyberbullying."
It even got play on the three network nightly newscasts.
By contrast, Kurtz said, a lot of these media outlets largely ignored Gruber's controversial comments about the lack of transparency that got Obamacare passed and the "stupidity" of the American voter. And on the network nightly newscasts in particular, the incredible lack of Gruber coverage got a lot of attention.
And Kurtz isn't alone in bringing this up. Republican operative Rick Wilson went on a Twitter rant against the media today that touched on the disparity in coverage. Here's part of what he had to say:
4/ You used to be able to claim news judgement and ignore stories you hated. You still do, but now people see it, and you loathe it.

— Rick Wilson (@TheRickWilson) December 2, 2014
5/ So you'll do one piece on Gruber, then pretend you dug in hard. But god forbid a staffer dings the Obama kids. Then you flood the zone.

— Rick Wilson (@TheRickWilson) December 2, 2014
8/ But you tolerate (and your editors tolerate) a lot of outrageous, absurdly bad practices. Gruber? Unforgivable.

— Rick Wilson (@TheRickWilson) December 2, 2014
12/ Not all of you, but a hell of a lot, have a Barro-ish contempt for people outside coastal metros. God, does it show in your writing.

— Rick Wilson (@TheRickWilson) December 2, 2014
So is this a fair criticism of liberal media bias?
Watch the video below, via Fox News:
[image via screengrab]
— —
Follow Josh Feldman on Twitter: @feldmaniac
Have a tip we should know? tips@mediaite.com
Josh Feldman - Senior Editor