Kurtz: "Networks Feel Pressure" as White House Appeals to Their Corporate Bosses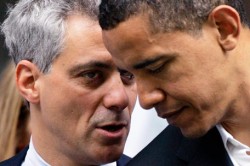 Howard Kurtz reports in today's Washington Post that White House Chief of Staff Rahm Emanuel pressured the corporate CEO's of the parent companies of TV networks to run Obama's press conference during prime time, instead of communicating directly with the network heads themselves. Bob Iger (CEO of ABC's parent company Disney), Jeffrey Immlet (CEO of NBC's parent company GE), and Les Moonves (CEO of CBS, which includes CBS Network among other media outlets) all received calls from Emanuel in a plea to broadcast President Obama's recent health care focused press conference, despite the hit their networks might take in the ratings.
Given the tough advertising climate, network heads are loathe to keep giving free airtime to White House, which Kurtz reports cost a total of $40 Million in lost ad revenue over the year.  While Emanuel's efforts to contact the corporate CEOs may have been successful, it didn't make the network executives lives any easier:
Whether this amounted to undue pressure or plain old Chicago arm-twisting, Emanuel got results: the fourth hour of lucrative network time for his boss in six months. But network executives have been privately complaining to White House officials that they cannot afford to keep airing these sessions in the current economic downturn.

The networks "absolutely" feel pressured, says Paul Friedman, CBS's senior vice president: "It's an enormous financial cost when the president replaces one of those prime-time hours. The news divisions also have mixed feelings about whether they are being used."
The complete article is a fascinating read that details how GE's Immelt told Emanuel that it was NBC head Jeff Zucker's decision, but that Emanuel's "subsequent call to Zucker yielded an agreement that NBC would provide live coverage."
Coming off the heels of the NY Times report of a "truce" brokered between Immelt and Rupert Murdoch (CEO of News Corp, parent of Fox) there appears to be new-found awareness of corporate interference with the editorial decisions at the networks. If what Kurtz reports to be true is true — and really, there is no reason to doubt him — we should never let corporate heads tell us they don't have an impact on their coverage. Because there is a growing list of evidence that indicates otherwise.
Have a tip we should know? tips@mediaite.com