LA Mayor's War With NBC Heats Up: MSNBC Anchor Confronts Him Over Charlie Sheen 'Party Picture'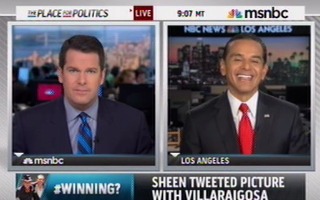 Los Angeles Mayor Antonio Villaraigosa's tense relationship with NBC News is quickly becoming openly hostile. Villaraigosa had harsh words for NBC reporters recently, saying that they and their network were "in that business of making people look bad." Today, the Los Angeles mayor was confronted on MSNBC over his recent appearance with controversial actor Charlie Sheen. Villaraigosa became visibly agitated and dodged the question, but the episode revealed much about the evolving relationship between the news network and L.A.'s mayor.

RELATED: NBC Execs Doubt Causal Link Between Violent TV And Massacres, Claim 'We're Not A Shoot-'Em-Up Network'
Towards the end of an interview with MSNBC anchor Thomas Roberts on immigration reform, Villaraigosa was asked about the "internet firestorm" that erupted when actor Charlie Sheen was tweeted out an image of him partying with Villaraigosa in Mexico over the holidays.
Villaraigosa took the picture with Sheen at the opening of Sheen's new hotel in Cabo, Mexico. "Antonio Villaraigosa knows how to party!" Sheen wrote in a tweet with the image attached.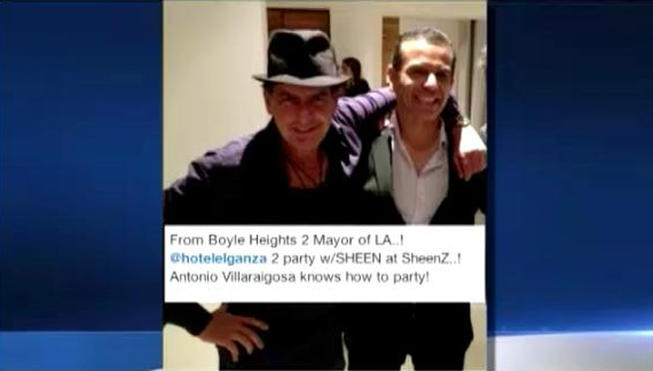 Sheen has courted controversy over the course of his career – being fired from his CBS sitcom over his drug abuse. Sheen also got into hot water over the holiday when he greeted the crowd at his hotel's opening by exclaiming, "Lying bunch of faggot a**holes, how we doing?"
Villaraigosa laughed uncomfortably when confronted by Roberts about the picture. "I've said all I'm going to say about that," Villaraigosa dodged. "The people watching your program don't care about me or Charlie Sheen."
"I think that people do probably want to hear your part of that," Roberts replied, while letting the Los Angeles mayor off the hook.
Villaraigosa was recently confronted by NBC reporters over the rumor that he had started dating actress Eva Longoria following his recent divorce.
"You're in that business of making people look bad, of creating some kind of caricature," he told NBC reporters pointedly. "I'm not in that business."
"I was on vacation," Villaraigosa added. "I deserve a vacation."
> >Follow Noah Rothman (@Noah_C_Rothman) on Twitter
Have a tip we should know? tips@mediaite.com