Lady Gaga Describes The Childhood Bullying That Inspired Her In MTV Interview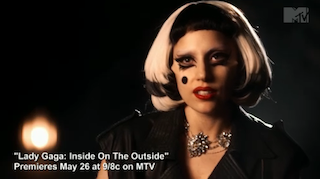 This morning, MTV announced an upcoming documentary on the life of Lady Gaga and, in particular, how Stefani Germanotta, the girl from New York, became the "fame monster" we see today (who, by the way, just took on the #1 spot on Forbes' annual "Celebrity 100" list). A few clips from from the documentary, to be called Lady Gaga: Inside the Outside, have been released and one is particularly striking. In it, Gaga tells a story of an instance of bullying from her youth and relates how it helped make her who she is now.
The story involves Gaga/Germanotta's bullying at the hands of some boys from her school:
"I remember once some of the girls from my class, they were hanging out with some boys that I knew also and the, I went to meet some friends for some pizza that were at the same pizzeria and the boys picked me up and threw me in the trashcan, on the street. On the corner of my block while all the other girls from the school were leaving and could see me in the trash and everybody was laughing and I was even laughing. I always have that nervous… giggle and I just remember like holding back the tears and the lip quivering and don't let them see you and I remember even one of the girls looking at me like 'Are you about to cry? You're pathetic.' That's what I, that's what I felt like, you're pathetic. 'Are you about to cry?' And I just, I remember I didn't tell anybody, that's what I remember. I remember I didn't tell anybody. I remember I didn't want to tell my parents because it was too embarrassing."
While those of us outside of Gaga's demographic may see the whole thing as a little silly, it's important to remember that Gaga, like many popular musicians before her and probably more than anyone else currently, caters to those who have been ostracized. Her recent hit "Born This Way," for all the crazy sci-fi trappings and unicorns in the video, is very clearly a message of defiance for those that have been put upon, particularly her sizable gay fanbase. So, while we may just see a millionaire with crazy make up talking about being thrown in a trash can, there's no doubt that many of Gaga's fans, her "little monsters," will find the tale incredibly inspiring.
Presumably, moments like that is what the documentary, set to air May 26th, will be going for.
Watch the clip from MTV below:
Have a tip we should know? tips@mediaite.com