Lady Gaga On Larry King: Music, Monsters, And The Destructive Qualities Of The Media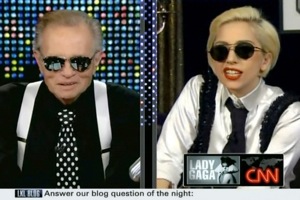 In one of the most anticipated interviews on Larry King Live since Snoop Dogg took Larry King to Roscoe's Chicken and Waffles, it was finally Lady Gaga's turn to sit down, like so many hundreds of stars, with King tonight. Most of her points weren't shocking– or, at least, not shocking in the context of Lady Gaga– but there were echoes of other prominent American women in the way she hinted at her love/hate relationship with the media.
Gaga showed up dressed in her best Larry King Halloween outfit and sitting in what looked like an abandoned set from the old SNL sketch "The Prince Show," which seemed strangely appropriate for their first on-air meeting. Many of the "shockers" of the interview were released beforehand– she may have lupus! she was set to open for Michael Jackson!– and her strongest philosophical points about her dedication to non-conformity and to LGBT causes are already well-known.
At some points it seemed that the obstacle course of differences between them– a litany of inside jokes and a glint of a senior moment or two– was a little too much for King, who, when forced to draw out answers, seemed to change the subject to something broad enough to reset the entire interview, like religion or role models. The worst of it were cringe-worthy, pre-packaged answers like knowing she wanted to be a performer "in my mother's warm womb;" when King could get to her, she could come up with some brilliant answers, like her explanation of why she is obsessed with the destructive power of fame, following an emotional moment when she admitted she was set to open for Michael Jackson before he died:
"Michael's death was devastating for me regardless of whether or not I was supposed to go on tour with him. He was such an inspiration and remarkable human being and… I suppose, Larry, some of my fascination with death and the demise of the celebrity goes along with me watching these hugely iconic and amazing people that I have heralded and admired all my whole life become destroyed, whether self-destroyed or destroyed by the media."
Another highlight came from a question about her other passion, the gay rights movement. Asked about her opinion of Don't Ask Don't Tell, she described not only the destructive quality of the policy on soldiers, but noted that "it's very wrong, and it's very confusing, especially for 14-year-olds in high school" who may be gay and become closeted.
A segment of the hour-long interview, in which she discusses her ties to Michael Jackson, her causes, and her fans, below:

Have a tip we should know? tips@mediaite.com