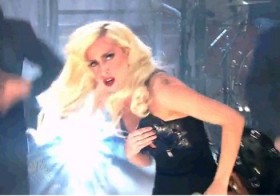 Did Lady Gaga have a wardrobe malfunction on Leno last night? After careful review here's my unscientific analysis: Yes.
Gaga performed her new hit, "Bad Romance," off her new album, The Fame Monster, which was released yesterday. At 3:26, a backup dancer lifted her (by the crotch no less!) and then, switching her position 90 degrees and lowering her, staggered just a touch. Gaga did not miss a beat but as he lowered her, she quickly adjusted her left breast and continued the song. Keen observers and people would eyes would note that for the rest of the song, that breast was struggling mightily to break free, Serena Van Der Woodsen-style, but a true analysis of whether anything showed was stymied by her bouncing blonde locks. However, following the number, Lady Gaga froze in place, with her microphone arm hugged tightly to her side. When Leno came over to greet her she extended the arm … and that is when I am 99% positive the faintest, quickest glimpse of areola was visible. Right afterward she adjusted again.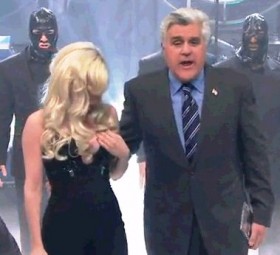 Now, two things here: First, Lady Gaga surprised me in seeming to care more about a potential nip slip than I would have thought. (In the subsequent interview, however, she revealed that her mom was in the audience, and then talked about her favorite nun-schoolteacher growing up). Followers of Gaga and accidental flesh-reveals will know that her nipple was accidentally shown in a photo in the New York Daily News earlier this month. Second, though she was a total pro about it some producer should have had a bug in Leno's ear telling him to block her, or even better should have cut to a wide shot at that moment, because if a casual viewer can tell that Lady Gaga's breast is in danger, a producer at Leno should be on that ball.
Now to the evidence:
Here is Lady Gaga embracing Leno. Is that shadow where a nipple would be caused by her hair, or, well, nipple?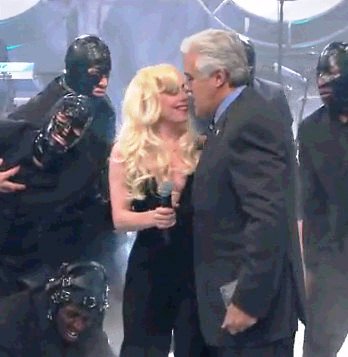 My last-night TV rewind told me nipple, but here's why I will argue for it based on a small, unclear still: Note the difference in how one side of the jumpsuit is cut to the other side. The "V" of the décolletage is so not symmetrical. Follow the line with your eyes. Geometry and anatomy would indicate a serious risk of non-coverage.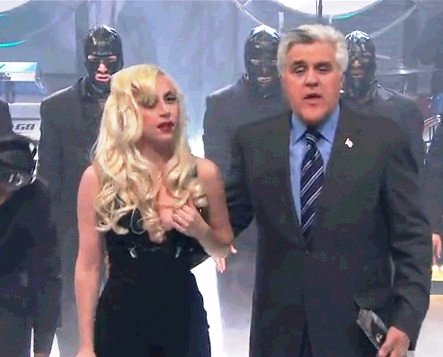 …and here she is checking, in front of 4 million people or however many watch Leno these days. Gaga, the consummate performer, would not have been so paranoid about her breast were there not reason to be. Ladies, am I right? You know when a boob is going rogue.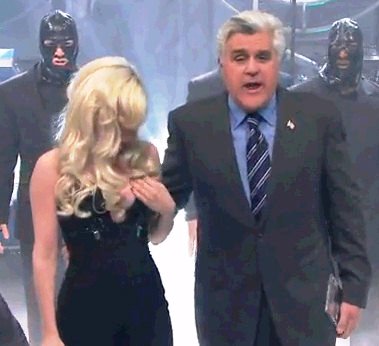 Is this conclusive? I do think so, but I will rely on the Internet to back me up. Separately, Gaga was fantastic in her follow-up interview, frequently addressing the audience directly (which Leno didn't seem to encourage), and deadpanning to Leno's fish about "what's the worst rumor about you?" Gaga: "That I'm from Yonkers." (Take THAT, Fek!) Also, she revealed what she's going to be wearing to perform for the Queen: "Latex and fishnets." That's our girl. God save her, too.
Here's the video – first of the specific moment (the lift/adjustment, and then through to the end of song greeting with Leno), followed by the full performance, because this is Lady Gaga, and she demands to be seen.
And here is the full video of her performance:
Update: Here's her interview with Leno. She comes across as very authentic, which sounds sort of strange given, well, EVERYTHING. But still.
Special thanks to MediaiteTV for the awesome late-night vid help!
Have a tip we should know? tips@mediaite.com