Lara Logan: 'I Feel Guilty, I Feel A Little Bit Responsible' For Marie Colvin's Death
Lara Logan: 'I Feel A Little Bit Responsible' For Marie Colvin's Death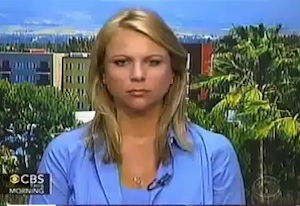 Appearing on CBS This Morning Thursday, Lara Logan spoke warmly about the late war reporter Marie Colvin and gave some insight about the dangers of covering conflicts abroad as foreign correspondent.
"You couldn't be part of the foreign media world and travel to these places and not know who Marie Colvin was," Logan observed. "She was a legend in her own right and a pioneer in many ways. As a woman, she started to do this work a long, long time ago when it was more of a man's world than it still is today, in some ways. And Marie was — this was her life. She was completely committed to doing what she believed in. You hear that in her words and in her reporting, just hours before she was killed. It was always about that for her. It was about bearing witness and giving a voice to the people that don't have one. And she said, so significantly, you know, if you're not on the ground to witness what was really happening in Homs, then the Syrian government could write whatever narrative they wanted to write and there would be no counter narrative to that."
RELATED: Marie Colvin's Final Interview With Anderson Cooper Before Her Tragic Death In Syria
Co-host Gayle King asked Logan about her sexual assault in Cairo, and whether she had doubts about being a foreign correspondent knowing the risks.
"When you were attacked in Egypt, I remember that story, it was brutal and frightening. You could have lost your life," King said. "I'm wondering when you hear stories about the death of Marie Colvin and what you just described, does it ever give you pause? I admire you so much. This is not something I could ever do. And I wonder, do you ever have second thoughts about it?"
"You know, Gayle, what I'm going to say now you probably would not expect me to say. But when I hear about Marie's death, I feel guilty. I feel a little bit responsible. And I feel a little bit like a fraud. Because I feel like that's my place."
"Responsible how, Lara?" She asked.
"For doing what she was doing. For being there on the ground, like Marie was, telling the story of people whose voices cannot otherwise be heard," Logan replied. "Whose lives otherwise mean nothing, because if you're not there to record the truth about what's happening to them, then it cannot be stopped. No government can ever be pushed into stopping it."
Watch Logan's interview below via CBS:

Have a tip we should know? tips@mediaite.com