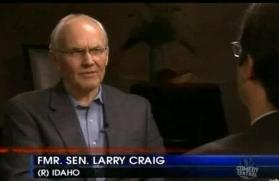 In a field segment last night on The Daily Show about Sen. Evan Bayh leaving the Senate, John Oliver got the chance to interview former Sen. Larry Craig.
Yes, that Larry Craig. Apparently he hasn't seen the show.
"You'd have to be crazy to give this up. Yet someone actually is," said Oliver, introducing Bayh. The underlying point throughout the Bayh interview was that if there was nothing else actually going on ("have you ever had sex with a page?" prodded Oliver), then why would anyone leave such a cushy job?
It was in this context Oliver got the chance to ask a retired Senator the same question. Enter Larry Craig. "I had so many questions about the infamous scandal that drove him from the Senate," said Oliver. "Unfortunately he'd insisted that I ask him none of them."
And so the interview stuck to the retirement itself. According to The Atlantic's Marc Ambinder, a former staff member for Craig sent this email around to staff (via Gawker): "Larry said that the show was fun and is about the Senate…They won't be discussing the past, but will be discussing sticking around after announcing retirement, etc."
So of course, that issue was completely avoided since field segments at The Daily Show always stick to the script. Right. Let's just say this former staff member will probably have to send another email around today. The innuendo during the entire uncomfortable three minutes was clear – and it wasn't just from Oliver. While his voiceover dropped winking lines like "while Senator Craig has successfully repressed those urges," Craig's own choices opened up him up for toe-tapping smirks. "When I was rushing to National Airport to catch a plane to Idaho, as I became an aggressive commuter…" he said.
An aggressive commuter? Seriously, this segment may help his initial, post-bathroom story. If he's this clueless about what to expect from a Daily Show sit-down, maybe he really does just have a wide stance.
Here's the clip:


—–
» Follow Steve Krakauer on Twitter
Have a tip we should know? tips@mediaite.com