Larry King Chides Julian Assange For Walking Out On CNN: "Rape Is Not Trivial"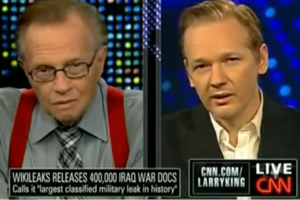 After walking out on CNN International's Atika Shubert when asked about his sexual molestation charges in Sweden, Wikileaks' Julian Assange once again sat down with the network, this time with Larry King who, while initially seeming nearly sympathetic to the Wikileaks cause, held Assange accountable for the trivialization of his molestation charges more than any journalist had been able to yet.
For most of the extended (three segments) interview, King kept the topic of conversation on Wikileaks' latest document drop, a 400,000 treasure trove of confidential information on the Iraq War. Assange was equally aggressive in defending this set of Wikileaks documents as he was with the Afghan War Logs, though this time emphasized the issue that made the prior release more controversial: the leaking of informants' names. "This material doesn't mention any soldiers' names, no names of Iraqi civilians… the only thing at risk here is the reputation of politicians and bureaucrats," Assange assured King.
They were later joined by Daniel Ellsberg, the legendary leaker who released what we now know as the Pentagon Papers, who joined in praising the significance of this new leak. But after giving Assange two segments without bringing up his recent behavior, King was ready to call him out on disrespecting his employer.
King begins to ask Assange about his walk-out on Shubert as footage of that interview plays, which confuses King into believing Assange was actually walking out of Larry King Live. As he turns to Ellsberg to ask "well, are you still there?" he is corrected by Assange, who answers, "I'm not walking out, but I probably should," and proceeds to berate King and CNN, saying they should "be ashamed of yourselves" for pursuing "false claims" that were a "trivial manner" compared to the release of the documents. King refuses to stand for this.
"All you had to do was say they were false. And when you say they were trivial– rape is not trivial. But to say they were false? That's you're answer, they're false? That's all we wanted to hear."
Some of Assange's harshest critics have found the reports of his behavior, coupled with the resignation of some high-ranking Wikileaks officials and the walk-off on CNN this weekend, to be evidence of Assange possessing the traits of a "petulant man-child." If that description is apt, it's also true he has never quite been spanked on national television the way Larry King did tonight. The last segment of King's interview with Assange (and Ellsberg, who is there the whole time) below:

Have a tip we should know? tips@mediaite.com