Larry King 'Had Trouble Watching' Piers Morgan: 'Britisher,' a 'Bit Pompous'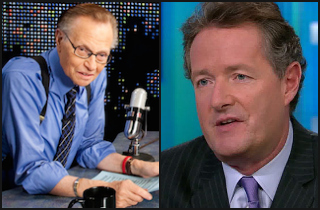 There never seems to have been any real love between former CNN hosts Piers Morgan and Larry King. And that still seems to be the case.
Last Wednesday, King called into Buffalo, New York, morning radio show Norton in the Morning to weigh in on a few things, including the demise of Morgan's show, which replaced King's in 2010.
King said that anyone who was going to step in to replace him was going to have a tough time with the audience, who had come to know King over his many years on CNN. Then he went into where CNN made a "mistake."
"The mistake I think they made was, one, hiring a Britisher. I think that was a mistake," King said. "Two, Piers Morgan did a show — personally, i like him fine — but it was all about him."
"He would get on soap boxes," King continued. "he got carried away on gun control. And he became, I think, in my opinion, a bit pompous. … So, I had trouble watching Piers Morgan's show and I guess a lot of other people did too."
Morgan, whose CNN show was canceled in February, replied on Twitter.
"Get over it you daft old goat," Morgan said. "You wrecked CNN's 9 p.m. ratings, not me."
Anyway, I suspect only me and Larry King give a monkey's cuss which we think of each other – so now that's off my chest, I'll move on.

— Piers Morgan (@piersmorgan) August 1, 2014
Listen via WGRF:
Update– 11:32 a.m. ET: Morgan got a hold of this post and took another dig at King. "What a dick," Morgan tweeted.
'Britisher' – what a dick. > RT @Mediaite: Larry King 'Had Trouble Watching' Piers Morgan: 'Britisher,' 'Pompous' http://t.co/29bHo0Tmui

— Piers Morgan (@piersmorgan) August 4, 2014
[h/t The Wire]
[Image via CNN]
— —
>> Follow Eddie Scarry (@eScarry) on Twitter
Have a tip we should know? tips@mediaite.com