Larry King Surprises Katie Couric, Sets Record Straight About Their 'Intimate Date'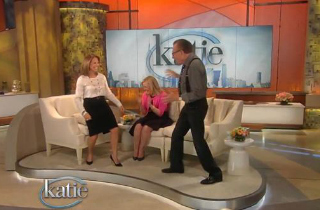 After Katie Couric has spent some time now openly discussing her date with Larry King, the veteran newsman crashed her syndicated talk show to set the record straight and tell his side of the story.
Couric was originally interviewing long-time King producer Wendy Walker when an introductory video explaining the Couric-King date debacle played and King himself emerged from backstage. "Hi Larry, are you mad at me?" Couric asked as the two shared a hug. "Nice to hold you again," King joked.
After the commercial break, King attempted to share his account of the date that Couric claims included him "lunging forward" to kiss her.
Appearing on Jimmy Kimmel Live in January, Couric recounted that "We're driving home and I see we're going over Memorial Bridge and that's not the way back to my apartment. So I said, 'Larry, where are we going?' He goes, 'My place.' And I was like, 'Oh, mother of God. Oh, God.'"
"He lunged," Couric explained of the newsman's attempt to kiss her.
King, however, disputed several of the details of Couric's story. "You said I drove you to my apartment," he said. "I have no memory of that." He also corrected Couric over the details of their date-night dining and conversations.
Contrary to Couric's claim that they sat across from each other at the restaurant, King recounted that they sat next to each because she wanted to see his bypass surgery scar.
And as for the moment Couric informed King she had a roommate upon returning to her apartment: turns out that wasn't true. "I was a little deflated," King admitted, but Murphy informed everyone that Couric lived alone at that time.
"So it turns out you were lying," King said. "You told me you had a roommate to get me away. You feared that I would lunge at you."
Watch below, via ABC:
— —
>> Follow Andrew Kirell (@AndrewKirell) on Twitter
Have a tip we should know? tips@mediaite.com