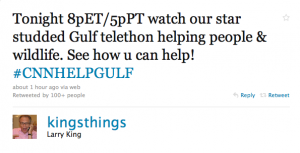 As my colleague Steve Krakauer pointed out earlier today, Larry King and his 9 pm hour on CNN have been the subject of speculation lately, amid that network's ratings woes and staffing shakeups. But aside from all that, what he should be getting attention for right now is his great fundraising initiatives, not the least of which is happening tonight in his two-hour star-studded "How You Can Help" telethon extravaganza to raise money for relief in the Gulf.
Following on the heels of raising almost $10 million for Haiti relief earlier this year, tonight's telethon – billed as a "two-screen event" for both TV and digital interfaces (computers, Blackberries etc. — though I guess that's three screens at this point) — will feature an impressive array of stars, including Kathy Griffin, Alyssa Milano, Ke$ha, Nicole Richie, Pete Wentz, Ivanka Trump, Chelsea Handler and…JUSTIN BIEBER. Just pause to imagine all the tween purchasing power, at the ready. $10 million? Feh. Think opening night of "Twilight: Eclipse." (And yes I am now going to tag this post with "Justin Bieber" and "Twilight: Eclipse."
More to the point: CNN deserves some big kudos for the big, splashy philanthropic programming they do for charity. From CNN Heroes to King's last telethon to tonight's big event, this is CNN using the power of their name and their reach to do good. It's too bad that on the very same day, the ratings — and the drama — are the story.
Here's a bit more on CNN's philanthropic and social media efforts, as per CNN Audience Interaction Producer Eric Kuhn, whom I interviewed earlier today at MakeWorkMeaningful.com:
You're in LA right now, prepping for Larry King's special two-hour telethon tonight to benefit the Gulf. Tell me a bit about how that project, and the social elements that CNN has brought into it.

Larry King did a similar event a few months ago for Haiti that was a big success and raised $10 million. We also created a hash tag (#CNNHelpHaiti) for the telethon that within 45 minutes became a top trending topic. What we have tried to do during Haiti (and what we will do tonight) is make the broadcast a two-screen experience where you watch CNN TV with your laptop or mobile device. Tonight if you include the hashtag #CNNHelpGulf in your tweets about the Gulf or Larry King Live, celebrities in the "Social Suite," including Ryan Seacrest, Kathy Griffin, Alyssa Milano, Chelsea Handler and Pete Wentz, will respond to tell you how to help. Facebook is also participating, using their Disaster Relief Page to post celebrity questions and information about the telethon and how you can help. Finally, the location-based social network Gowalla has done something really awesome, where if you "check-in" at a "Parks and Nature" spot, you will receive an official "Larry King Live: How You Can Help" Pin for your Gowalla Passport, as well as a tip on how to help in the Gulf. I believe that by staying connected, we can all make a difference.
and
CNN has really been a leader in supporting causes for social good – CNN Heroes, they were a big part of the "Hope for Haiti" telethon, and, earlier this year when I asked, they sponsored Twestival. Tonight's telethon is another example of this. How much do 'social good' factors play into what you do at CNN?

The concept of "social good" is something that really feels like it's in CNN's DNA – from the amazing team at CNN Impact Your World to our staff who produces CNN Heroes to the folks that jumped on Hope for Haiti and tonight's event, I feel fortunate to work with such giving, caring individuals. Earlier this month, CNN created a program called CNN's Give 30 for 30, completely conceived by CNN employees and embraced by Turner Broadcasting. Basically, in honor of CNN's 30th birthday, every eligible Turner employee has the opportunity to direct a company-paid donation of $30 to a charitable organization of his or her choice. To me, that's a humbling move.
A strong charitable bent both inside the organization as well as the face put forth to the world — that's a pretty good legacy for 30 years, whatever the ratings. Though hopefully those will move up the thermometer like so many Bieber-inspired dollars on a telethon thermometer, so that this kind of good work can continue in to the future. So don't screw it up this time, Eliot Spitzer!
Why We're Doing "How You Can Help" [CNN]
Monday's Telethon: A Two-Screen Experience [CNN]
Have a tip we should know? tips@mediaite.com