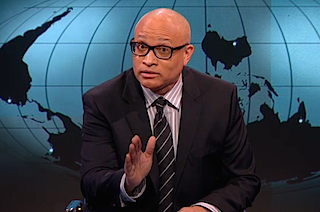 Larry Wilmore may have done a "really powerful" episode of The Nightly Show on Wednesday, featuring a panel of four black dads, but by the time Thursday night rolled around, he was apologizing for a bit he did during the "Keep it 100" segment in which he asked his guests if black women are too "bossy" to marry.
Before he moved on to his main topic of designer babies, Wilmore attempted to clear the air. "Like I said, it was a joke," he said. "But I get it. Some people thought we were picking on black women. We were not, black women," Wilmore said. "You guys know we love you. I was raised by a single black women."
"But, I'm sorry," he added, before revealing that he would be doing another panel show later this month featuring four black moms.
"If some of you are still upset about this, please send your suggestions to @Common," Wilmore joked, in reference to one of the black dads on his panel. "I'll be honest with you, I don't know why I let Common talk me into that one, that one's on me."
During the previous night's show, Wilmore asked his guests to "keep it 100" on the question of black women's bossiness, they all ended up with "weak tea," including New York Times columnist Charles Blow, who said, "I'm not doing that," when the host tried to get him to give him a rating between one and 10. "It better not be under five," Wilmore joked.
Here are some of the tweets Wilmore received in response:
Larry Wilmore is seriously asking if black women are unmarried because we're too bossy. He must wanna die. #NightlyShow

— Leslie NOPE. (@Dani_Knope) February 5, 2015
are Black women too BOSSY?!! Naw son we just BAWSE @larrywilmore #TheNightlyShow

— MichaelaAngela Davis (@MichaelaAngelaD) February 5, 2015
@larrywilmore Im totally into the new show & was totally loving tonight's episode until the "bossy black women" bit. DONT KEEP US IN A BOX!

— N. Ardell Stevens (@kneeUhh121) February 5, 2015
Black women are BOSS (not bossy) bruh, I seethe brilliant @CharlesMBlow opted out @larrywilmore #TheNightlyShow #KeepIt100

— MichaelaAngela Davis (@MichaelaAngelaD) February 5, 2015
Interestingly, it was after a joke about skipping his child's birth to play in the Super Bowl that Wilmore thought would cause a bigger controversy, saying, "Send me your tweets, I don't give a shit."
Watch video below, via Comedy Central:
[Photo via screengrab]
— —
>> Follow Matt Wilstein (@TheMattWilstein) on Twitter
Have a tip we should know? [email protected]