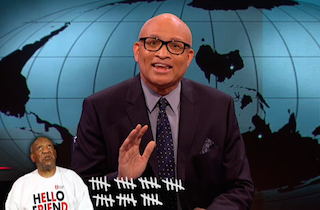 In his opening tease for the second episode of The Nightly Show, Larry Wilmore said of the rape allegations against Bill Cosby, "We'll ask the question, 'Did he do it?' The answer will be yes." From there, Wilmore dedicated his full half-hour to the Cosby story and all its implications, coming down hard with the conclusion that the comedian is undoubtedly guilty.
Wilmore wondered why so many people seem so hesitant to believe Cosby's accusers. "Is it just because they're women?" he asked. "Because I would say enough have come forward. The current tally stands at 35 women. Really, folks, how many more do we need?"
"That's like if Bill Cosby drugged and raped every U.S. President from George Washington to John. F Kennedy," Wilmore added, before demonstrating his own Cosby impression. While there is some discrepancy on the exact number of women Cosby is alleged to have sexually assaulted, he said, "If the difference between 34 and 35 women matters to you, please fuck off forever."
"Let's consider for a second that Cosby didn't do it," he said, putting a one-second clock on the screen. "OK, we're done!"
Watch video below, via Comedy Central:
The first of two panel segments on the Cosby story brought a near consensus on Cosby's guilt, with one hold-out: comedian Keith Robinson. "Wherever you see Gloria Allred, you know somebody's lying," he said, referring to the lawyer who has jumped in to defend some of Cosby's accusers. "Gloria Allred is like the Al Sharpton of women."
"I just think we're going to hard on Cosby," Robinson said later. "We're already acting like we know that he did it… We don't know that he did it!"
"I understand, people are innocent until proven guilty in the court of law," Wilmore said calmly. "However, this is the court of public opinion and this is my show and that nigga did it."
Comedy Central bleeped that last bit, but we're almost positive that's what he said.
Watch video below, via Comedy Central:
RELATED: Larry Wilmore's Nightly Show Panel Already Way More Fun than Bill Maher's
[Photo via screengrab]
— —
>> Follow Matt Wilstein (@TheMattWilstein) on Twitter
Have a tip we should know? [email protected]